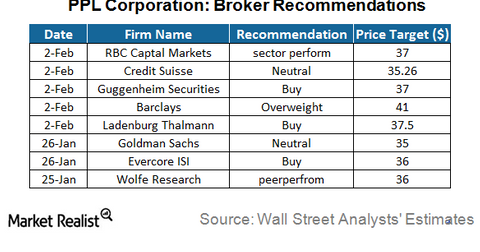 PPL Expects Aggressive Earnings amid Minimal Load Growth in 2016
By Vineet Kulkarni

Updated
Outlook
Though PPL reported losses in 2015 due to the spin-off of its competitive energy business, its business risk profile has improved. PPL is now well-placed to achieve stable growth by focusing completely on its regulated operations.
PPL's management is expecting substantially higher earnings growth of 6.3% in 2016, despite its prediction of minimal load growth through 2018. Upcoming rate cases and increased capital expenditure may significantly contribute to these aggressive aims in 2016. Management expects the company's rate base to expand by $4.3 billion in the next three years. PPL has provided earnings guidance in the range of $2.25–$2.45 per share for 2016.
Article continues below advertisement
Price targets
According to Wall Street analysts, PPL has a one-year price target of $36.8. This amounts to a possible upside of 0.5% in one year. PPL was trading at $36.60 on February 4, 2016. Of the 22 analysts tracking PPL, 11 have given it "buy" recommendations, while 11 have given it "hold" recommendations. No analysts have given it "sell" recommendations. The table above shows brokers' outlooks for PPL and its price targets for the next year.
Comparing the price targets of PPL's utilities (IDU) peers, American Electric Power (AEP) has a one-year price target of $62.50 compared to its current market price of $62.30. Public Sector Enterprise Group (PEG) has an estimated price target of $42.1 against its current price of $42.40. Xcel Energy (XEL) has a one-year price target of $38.10 against its current market price of $39. This implies a downside of 3%.