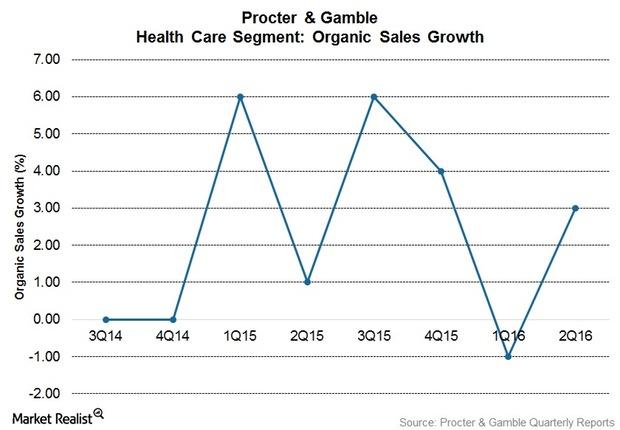 P&G's Health Care Business Is Still Struggling
By Penny Morgan

Feb. 9 2016, Updated 1:06 a.m. ET
Fiscal 2Q16 health care business results
Procter & Gamble's (PG) Health Care segment's organic sales rose 3% in fiscal 2Q16 as a favorable geographic mix and higher pricing in both Oral Care and Personal Health Care were partially offset by lower volume.
The Healthcare segment's net revenue for fiscal 2Q16 fell 5.3% to ~$2.0 billion compared to the corresponding quarter last year. Oral care organic growth increased in developed markets due to strong growth for power toothbrushes and the premium tier Pro-Health and 3D White franchises. According to the Kantar Brand Footprint report, Oral-B is among the top 100 brands in three continents.
Article continues below advertisement
Developing markets
However, in developing markets, oral care organic sales were flat as growth in power toothbrushes and price increases were offset by challenges in China. Also, developing markets sales declined due to lower volumes driven by competition from Colgate-Palmolive (CL) and Unilever (UL), especially in Asia. P&G's oral care segments also saw competition from other local and regional competitors. To learn more about Colgate-Palmolive's dominance in toothpaste, please read A Must-Know Business Overview of Colgate-Palmolive.
Organic sales for Personal Health Care also rose due to pricing and strong growth in developing markets. However, Prilosec saw lower sales due to higher competition from bigger healthcare companies like Pfizer (PFE) in developed markets.
Focus on innovation
The company plans to launch Oral B Gum Care, a new super-premium gum repair line of Oral B toothpaste. The line includes a two-step paste and other single-step paste variants, which is winning against top competition in the super premium tier, as per comments by CFO Jon Moeller. P&G is also planning to import power toothbrushes to China to grow its base in emerging markets.
P&G makes up 2.1%[1. Updated on January 27, 2016] of the iShares S&P 100 ETF (OEF). We will focus on P&G's leading fabric care and home care products results in the next part of the series.