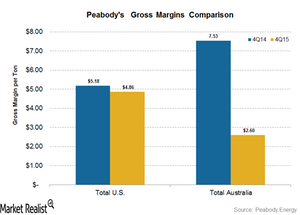 Why Did Peabody Energy Miss Its 4Q15 Adjusted EBITDA Estimates?
By Sheldon Krieger

Updated
Gross margin per ton
The gross margin per ton is equal to the selling price per ton minus the operating cost per ton. While Peabody Energy's (BTU) gross margins per ton increased in the PRB (Powder River Basin), its gross margins per ton across the remaining segments and overall US operations fell. The Australian operations reported gross margins per ton of $2.60 in 4Q15—down from $7.53 in 4Q14.
The gross margin per ton for Peabody's US operations came in at $4.86 in 4Q15—compared to $5.18 in 4Q14. Most of the fall in the US margins was driven by Western operations. The margins fell to $8.87 in 4Q15 from $9.78 in 4Q14. Midwestern margins fell to $10.95 per ton in 4Q15 from $11.68 per ton in 4Q14.
Article continues below advertisement
Drop in adjusted EBITDA
Peabody Energy's adjusted EBITDA (earnings before interest, tax, depreciation, and amortization) for 4Q15 came in at $53 million—compared to analysts' expectations of $116 million. The EBITDA value fell by nearly 75% on a year-over-year basis from $207.7 million in 4Q14. The decreased EBITDA is mainly due to low revenue as a result of pricing pressure and low sales volumes, particularly from US mining operations and an increase in hedging losses. The company reported nearly a three-fold increase in corporate hedging losses at $110.2 million—compared to 4Q14.
Peabody Energy's net losses remained flat
Peabody Energy reported net loss of $518 million—compared to $514.6 in 4Q14. It reported nearly a two-fold increase in the asset impairment amount at $377 million—compared to $154.4 million in 4Q14. Also, an increase in interest expenses dragged down the profit in 4Q15.
The continued downturn in the commodity market can have a significant impact on the future margins of Peabody Energy and its peers Arch Coal (ACIIQ), Alpha Natural Resources (ANRZQ), and Cloud Peak Energy (CLD). Low leveraged and pure-play PRB coal (KOL) producers like Cloud Peak Energy could stand out in such a scenario.