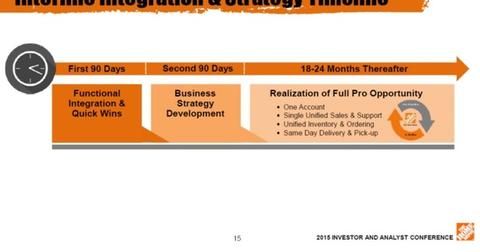 How Interline Brands Gives a Vital Edge to Home Depot
By Phalguni Soni

Updated
Widening market opportunities
In 2015, The Home Depot (HD) completed its $1.7 billion acquisition of Interline Brands. Interline is a broad-line distributor of products to the facilities maintenance end market. According to Craig Menear, chairman, CEO, and president of The Home Depot (HD), HD and Interline combined have a market share of less than 5% of the MRO (maintenance, repair, and operations) market currently. The MRO market size in the United States is estimated at $50 billion, which presents a sizable opportunity for the retailer.[1. Sources: HD Filings, 2014 HIRI Reference Guide; 2015 Harvard University "Emerging Trends in the Remodeling Market," NAICS (North American Industry Classification System), and external market analysis]
Article continues below advertisement
About Interline Brands
Interline Brands sells proprietary products as well as branded products from companies such as GE (GE), Fluidmaster, Kohler, and Georgia-Pacific. Interline has over 175,000 customers. The company sells repair products to property managers of institutions and apartment buildings. 49% of its sales stem from institutional customers, with 31% and 20% of revenue coming from the multifamily and residential (XHB) end markets, respectively. It's the market leader in the institutional and multifamily segments, and it ranks in the top five in the residential segment. In the 12 months ending 1Q15, Interline had clocked EBITDA (earnings before interest, tax, depreciation, and amortization) of $144 million, on sales of $1.7 billion.
Larger market
With Interline's network, HD can target business-to-business opportunities by providing service, product, and installation sales to larger property managers, institutions, and multifamily residences. The Interline acquisition provides HD with several operational synergies, including a 1,600-strong associate pool to expand its business, and over 100,000 products, some of which aren't stocked at The Home Depot. Interline's distribution network also provides HD with another 90 distribution points across the United States, enhancing its supply chain and fulfillment capabilities.[2. Based on comments by Bill Lennie, Home Depot's executive vice president of Outside Sales & Service]
The strategic acquisition, besides providing a foothold in the MRO market, has widened HD's opportunity set with the pro customer. The HD-Interline combination can offer an integrated solution to larger commercial customers by combining product and service sales. Interline is also likely to provide HD with an edge over Lowe's (LOW) when it comes to pursuing larger commercial opportunities.
HD and LOW together constitute 1.3% of the portfolio holdings in the SPDR S&P 500 ETF (SPY). HD also makes up 4.7% of the holdings in the ProShares Ultra Dow30 ETF (DDM).