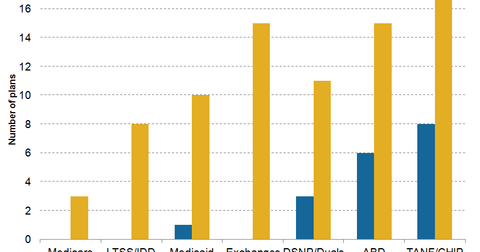 Will Increasing Scale and Diversification Boost Centene's Revenues?
By Margaret Patrick

Updated
Centene's strategy
After the closure of Centene-Health Net Deal, which is expected to happen by March 1, 2016, Centene Corporation (CNC) expects to benefit from the increase in the scale of its operations as well as from the diversification of its revenue base.
Above diagram shows that in 2010, the majority of Centene's health plans were concentrated on TANF (Temporary Assistance for Needy families), CHIP (State Children's Health Insurance Program), and ABD (aged, blind, and disabled) programs. But in 2016, Centene's merger with Health Net is not only expected to increase the total number of health plans offered but also to expand across multiple programs, thus diversifying Centene's revenue streams.
Article continues below advertisement
In 2010, the company had only one plan that exceeded $1 billion in premium revenues. In 2015, six health plans earned more than $1 billion in premiums, but in 2016, the company expects 12 plans to achieve this milestone. In addition to revenues, a rising number of health plans is also expected to help Centene reduce general and administrative expenses due to economies of scale.
Guidance for 2016
In 2016, Centene expects to earn revenues in the range of $40 billion–$40.8 billion, which includes projected monthly revenues of about $1.3 billion from Health Net for a ~10-month period. In addition, the merger with Health Net is projected to raise the number of public exchange enrollees and impact Medicaid expansions in Texas, Louisiana, Florida, Mississippi, and Indiana, which are expected to contribute to an even stronger strong revenue performance for Centene in 2016.
Centene's revenues are also expected to benefit from the acquisition of Agate Resources in Oregon. Wall Street analysts have projected that in 2016, UnitedHealth Group (UNH), Cigna (CI), and Anthem (ANTM) will earn revenues of about $181.2 billion, $40.3 billion, and $83.2 billion, respectively.
Adjusted diluted EPS in 2016
Centene expects to earn adjusted diluted EPS (earnings per share) in the range of $4.05–$4.40 in 2016, which excludes the impact of amortization of intangible assets related to acquisitions of about $0.50 to $0.55 per share, as well as expenses related to the merger with Health Net of about $0.70–$0.75 per share.
If Centene manages to exceed its projected revenue and EPS guidance in 2016, we should see a positive impact on the company's share price and on the holdings of iShares Russell Mid-Cap Growth ETF (IWP), which has about 0.26% exposure to Centene.
In the next and final part, we'll check in with analyst recommendations for Centene and analyze the various factors that support or refute these recommendations.