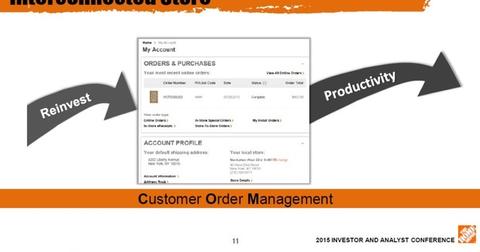 HD: Investing to Create Value Across the Merchandising Cycle
By Phalguni Soni

Updated
Reinvest cost savings
The Home Depot (HD) is collaborating with its vendors to identify cost opportunities and discuss increases to the cost of goods sold. HD is looking at a gross margin of 34.2% in fiscal 2016. It's also projecting to maintain its gross margin at 34.2% over the next three years, despite the margin expansion these initiatives will bring, by reinvesting these productivity savings in lower margin categories.[1. Based on comments by Carol Tomé, Home Depot's executive vice president of Corporate Services and chief financial officer]
Article continues below advertisement
Supplier collaborations
Home Depot (HD) has also been collaborating with suppliers to develop products and rationalize its supply chain, leading to productivity enhancements and cost savings. The company's management aims to enhance volumes and drive higher traffic and sales (VCR) as a result of these measures.[2. Based on comments by Ted Decker, Home Depot's executive vice president of Merchandising]
Future initiatives
HD plans on implementing buy-online-deliver-from-store in 2016. Before that, the company plans to roll out customer order management, which will enable online access to customer orders for all stores, vendors, and customers.
In contrast, ~10% of rival Lowe's (LOW) online orders are delivered from its stores. Other major retailers (RTH) including Macy's (M) and Nordstrom (JWN) have been fulfilling orders from stores for several years.
HD also plans on launching supply chain synchronization to ensure more predictable freight flow into stores, which will benefit associates and customers and enhance productivity. Freight management initiatives such as Smart Sort and Engineered Rollout are expected to reduce 90 miles of walking for each receiving associate per year. HD also plans to implement software called Directive Pack Out, which guides associates on the order in which merchandise is to be placed on shelves. This initiative is expected to reduce associate walking time by 1–2 feet per carton.[3. Based on comments by Marc Powers, Home Depot's executive vice president of U.S. Stores]
Besides the cost savings these programs are expected to generate, they're valuable as they'll free store associate time for more customer interaction, which will enhance customer service.