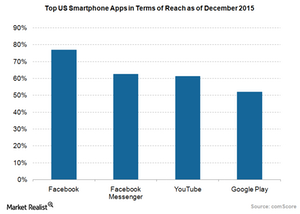 What's Google Up To? Initiatives to Grow Google Play
By Puneet Sikka

Mar. 11 2016, Updated 12:05 a.m. ET
Google's now focusing on providing a better personal experience for users
In the previous part of this series, we discussed how Google's (GOOG) Google Play continues to lag behind Apple's (AAPL) App Store in terms of revenue. However, Google has started to undertake initiatives to monetize Google Play effectively. Google mentioned that it's focusing on giving Google Play users a better personal experience. The company also mentioned that it continues to improve Google Play's payment capabilities.
Article continues below advertisement
These efforts resulted in average revenue per Google Play user growing 30% in 2015 compared to 2014. Google Play is also ranked highly in terms of use on smartphones. According to a report from Comscore and as the chart below shows, Google Play is ranked fourth, behind Facebook (FB), Facebook Messenger, and YouTube. Facebook and Google dominate these rankings. Pandora (P) and Amazon (AMZN) are the only players among the top ten smartphone apps that aren't from Facebook and Google.
Google has undertaken other initiatives as well
In the past, Google has partnered with US telecom providers so that they can charge users for app and content purchases from Google Play by directly billing them to their accounts. Google is also looking for partnerships in Europe (EFA) and Asia, where this sort of billing process could become even more popular since credit card penetration in these regions is still low.
The company has also tried to bring its Google Play products—like Google Play movies, Google Play music, and Google Play books—to as many countries as possible. Google hopes that all these efforts will help it monetize Google Play better.