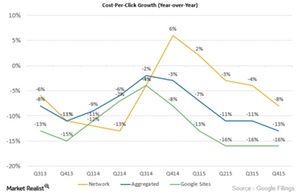 Google's Cost-per-Click for All Its Properties Moved in Tandem
By Parker Thomas

Updated
CPC metric
A major part of Google's (GOOG) revenue comes from mobile and PC searches. Mobile searches surpass PC searches. According to Forbes, PC and mobile search ads have contributed around 70% of the total value generated by the company.
Cost-per-click (or CPC) is a metric that measures the price paid for the number of times a visitor clicks on search ads, and it has seen a continuous fall over the period. For 4Q15, CPCs for Google's site, network, and aggregate have seen falls of 16%, 8%, and 13%, respectively.
Article continues below advertisement
Rationale behind the CPC trend
The falling CPC trend is due to growing YouTube advertisements, where the majority of the advertisers have chosen TrueView ads, which cost less than AdWords on Google's site. AdWords uses data-driven ads to target specific online users. Adwords has a higher conversion rate than YouTube's TrueView.
Google is monetizing its search ads through a programmatic platform that matches relevant ads with the content delivered on the page. As a result, users' conversion rates increase as programmatic ads do away with the inefficiencies of improper ad matching.
The number of advertisers using programmatic ads has increased over the period. The number nearly doubled in 2015 compared to the previous year. Google is leveraging its programmatic platforms such as AdMob, AdExchange, and DoubleClick Bid Manager. This reflects a promising outcome, but it also reflects a negative impact for the company's CPC rate.
The PowerShares NASDAQ Internet ETF (PNQI) is a portfolio of 94 stocks, of which the top four stocks Amazon (AMZN), Alphabet, Facebook (FB), and Netflix (NFLX) constitute 9.1%, 8.7%, 8.3%, and 7.5%, respectively.