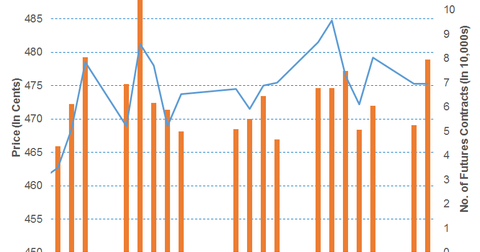 Favorable Weather in the US Wheat Belt Didn't Drag Prices Down
By Sean Brown

Updated
Wheat prices didn't change
March wheat futures trading on the CBOT (Chicago Board of Trade) stayed the same at $4.75 per bushel on February 2, 2016. Wheat futures prices didn't change due to supportive cues from favorable weather conditions in the US wheat belt. Unlike the price movement on the CBOT, the Teucrium Wheat Fund (WEAT) rose by 0.55% on February 2, 2016.
The weather conditions in the US wheat belt, specifically in the Great Plains and Midwest regions, are dormant. During this time of the year, the weather conditions remain cold and dry. This hardens the wheat. It's an essential part of the production. The weather conditions supported the wheat quality and output on February 2, 2016. The speculation of favorable weather conditions supported the output consensus. It had a negative impact on the prices.
Article continues below advertisement
There was quality controversy when Egypt rejected the French wheat export, according to the GASC (General Authority for Supply Commodity) on February 2, 2016. After the ergot contamination and quality issue surfaced, Egypt didn't receive an offer for a replacement from the exporting country. In reply, Agritel—a Paris-based consultancy—explained that no exporter wants to take uncertainty when the policy statement and its implementations have differences. Without clarity on the quality aspect, it's likely that no exports will be made to the top wheat importer in the world. Later, the GASC negotiated for the three metric tons of wheat contracts out of the quota system to satisfy the local demand. The speculation of the unfavorable quality issue was held with unsatisfactory reasoning. It had a negative impact on US wheat exports on February 2, 2016.
Fertilizer companies stock
Fertilizer businesses fell due to negative cues from lower-than-anticipated positive price movements for wheat. This had a negative impact on fertilizer businesses due to lower farm incomes. On February 2, 2016, shares of Intrepid Potash (IPI), Monsanto (MON), Potash Corporation of Saskatchewan (POT), and Terra Nitrogen (TNH) fell by 8.2%, 2.9%, 4.9%, and 1.8% on February 2, 2016. The PowerShares DB Commodity Index Tracking Fund (DBC) fell by 1.8% on February 2, 2016, with no change in wheat prices on the day.