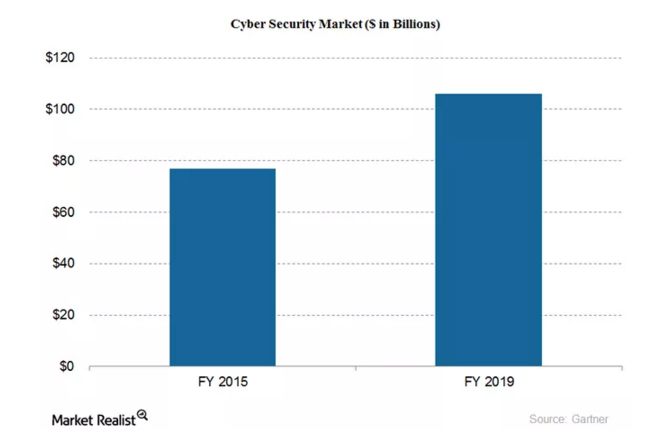 Why the Cybersecurity Space Could See Consolidation in 2016
By Anne Shields

Nov. 20 2020, Updated 11:26 a.m. ET
Lower valuations and increased interest from leading players will increase M&As in the cybersecurity space
In the prior part of the series, we discussed FireEye's (FEYE) 4Q15 results. The recent fall in share price of companies in cybersecurity space has made them attractive as an acquisition target by big tech companies like Cisco (CSCO) and IBM (IBM).
Cisco stated that its cybersecurity revenue grew by 12% to $1.8 billion in 2015. IBM (IBM) achieved the same growth in its cybersecurity revenue in 2015. Despite clocking billions in revenues from security offerings, security revenues make up less than 5% of both IBM and Cisco's overall revenues.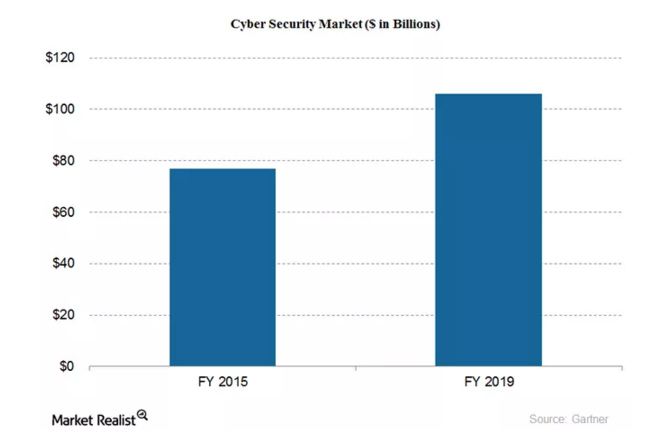 According to Steve Morgan, Cybersecurity Ventures CEO, 2016 will see increased mergers and acquisitions (or M&A) in the cybersecurity space, particularly since leading technology players like IBM, Cisco, and Dell are taking an interest in the security software and services space.
Article continues below advertisement
Why companies are increasingly looking for acquisitions in the cybersecurity space
The changing face of the enterprise security space has urged companies to acquire smaller companies and startups with disruptive technologies in order to gain a competitive edge over peers. By purchasing a smaller company that has a novel and unique approach towards network security, the acquiring company can offer an exhaustive suite of offerings to customers.
According to the recent Stifel report, "established players in the security software industry are losing both market share and technology innovation to new players. They're more agile and innovative, which gives them an edge over established players." We have already discussed how Palo Alto (PANW) is posing a threat to Cisco's dominance in the security appliance market. PANW's business model lets it command a premium over its peers.
Fiscal 1Q16 and 2016 expectations
For fiscal 1Q16, FireEye expects revenue and non-GAAP EPS between $167 million and $177 million and -$0.49 and -$0.53, respectively. FireEye's guidance beat analysts' expectations who were expecting the company to post revenue and EPS of $167.9 million and -$0.40, respectively. For fiscal 2016, FireEye expects 2016 revenue and EPS between $815 million and $845 million and -$1.25 and -$1.32, respectively. As compared to fiscal 2015 billings of $797.4 million, the company expects billings for fiscal 2016 to grow in the range of $975 million and $1.1 billion.
Investors who wish to gain exposure to the cybersecurity space can consider investing in the PureFunds ISE Cyber Security ETF (HACK). HACK has a portfolio of 32 stocks. The ETF invests ~5% of its holdings in FireEye.