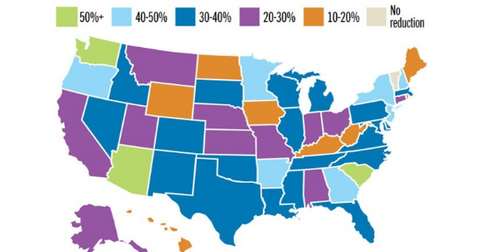 Coal Players Get a Breather as US Clean Power Plan Hits Turbulence
By Vineet Kulkarni

Updated
Utilities, US states resist clean power
The US Supreme Court decided on February 9, 2016, to put a hold on US President Barack Obama's ambitious Clean Power Plan. The verdict was 5–4, the majority vote calling for a stay on the plan. Many coal miners, some utilities, and more than 25 states had also opposed the plan, saying the US EPA (Environmental Protection Agency) was attempting to interfere with state authority.
Now the fate of Obama's Clean Power Plan lay uncertain as the timeline for its implementation has been pushed back, and Obama's administration is into its final 11 months.
The Clean Power Plan that was announced on August 3, 2015, by Obama and the EPA set nationwide rules to reduce carbon emissions. The plan targets a 32% reduction in greenhouse gas emissions by 2030, compared to 2005 levels. (To learn more about Clean Power Plan, read Market Realist's "Clean Power Plan Impacts Utilities and Generation Technologies.")
Environmental justice or a burden on minorities?
Now the EPA will not impose the September 2016 deadline on states. The President's Clean Power Plan represents the Obama administration's contribution to the climate change agreements in Paris in December 2015. With the Supreme Court's hold in place, the US may have trouble holding up its part of the deal until legal challenges are resolved.
Supporters of the Clean Power Plan claim that the act represents "environmental justice," while critics argue that coal companies, low-income groups, and minorities would be hit hardest by this plan, because the plan would also, critics claim, disproportionately affect major coal-producing regions like West Virginia, Ohio, and Wyoming, which have the highest emission reduction targets, effectively raising electricity rates for users.
The inevitable shift from coal to natural gas?
Many utilities in the US use coal as their primary energy source for electricity generation. American Electric Power (AEP) uses nearly 60% coal while Southern Company (SO) and Duke Energy (DUK) use 40% coal (KOL) in their total power generation. The EPA rule would require utilities (FXU) with a high proportion of coal in their fuel mix to shift to natural gas (UNG) or to renewable energy (PBW) sources in order to reduce the greenhouses gas emission.