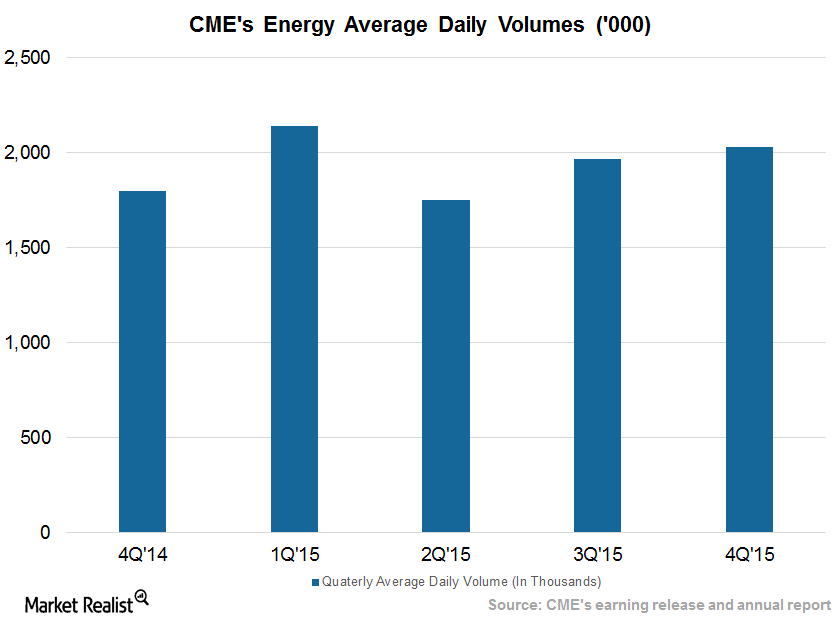 Were CME's Energy Trades Helped by WTI?
By Robert Karr

Feb. 9 2016, Updated 2:32 p.m. ET
Energy trades
CME Group (CME) reported a 13% rise in volumes of energy trades for the fourth quarter of 2015 to an average 2.0 million contracts per day compared to the prior year's quarter. It was mainly helped by a rise in both WTI (West Texas Intermediate) futures and WTI options. WTI futures and options have averaged 1.4 million contracts per day, up by 29%. In January 2016, the growth in volumes stood at 18% on year-over-year basis to average 2.6 million contracts per day.
Energy volume led the way in terms of product line growth from Asia. The trends reflect that Asian clients are comfortable trading and clearing directly with a US-based exchange.
CME continues to successfully grow its energy options volumes on Globex. About 40% of its total option spreads traded on Globex in the fourth quarter, up from just 10% in 2010. CME has been successful in enabling a complex options spread to trade on Globex, reflected in increased electronic trades.
CME Globex provides global connectivity to an array of futures and options across all asset classes. Its technology facilitates all electronic trading, providing users around the globe with virtually 24-hour access to global markets.
CME generated net income of $1.2 billion in the last fiscal year compared to its peers:
Article continues below advertisement
Oversupply of oil
The global oversupply of oil (USO) continues in 2016. CME has benefited from higher volumes in WTI but has seen slower growth in Brent. In 4Q15, there was a lifting of a 40-year ban on exporting of crude oil outside the United States. This is expected to be beneficial for a growth of complex growth for CME.
The company sees a very high level of activity in its energy complex, driven by Asian and other emerging markets. Its WTI options have increased both in volume and operating income. The average rate per contract for energy trades declined by 3.7% on a year-over-year basis, reflecting higher shifts on electronic trades.