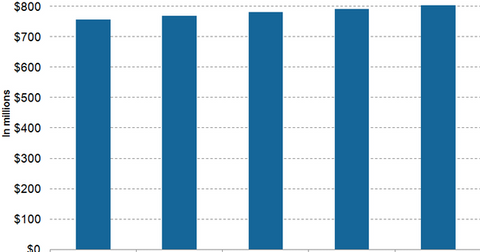 Customer Growth Drove CI's Global Supplemental Benefits Business
By Margaret Patrick

Updated
Global supplemental benefits business
In 2015, Cigna's (CI) global supplemental benefits business earned revenues of about $3.1 billion, year-over-year (or YoY) growth of about 4.8%. To know more about Cigna's global supplemental business, please refer to Cigna: Global Supplemental Benefits Earn 9% of Revenues.
The above chart shows that the global supplemental benefits segment's revenues came in at $805 million in 4Q15, a YoY rise of about 6.3%. This is mainly due to the steady acquisition of new customers and the retention of existing customers in Cigna's target markets.
Article continues below advertisement
In 4Q15, Cigna's after-tax margin for its global supplemental benefits business was 6.7%, a rise of about 1.9% compared to 4Q14. Though the company witnessed the negative impact of foreign currency fluctuations, it benefited substantially from business growth coupled with favorable claims experience in the Korean market.
Other health insurance companies such as Aetna (AET), Humana (HUM), and UnitedHealth Group (UNH) have also adopted the strategy of expanding into international markets to boost their profit margins.
Aetna, UnitedHealth Group, Cigna, and Humana make up 1.2%, 3.6%, 1.1%, and 0.83%, respectively, of the portfolio holdings of the Vanguard Health Care ETF (VHT). In the event of strong growth in international business, VHT may also witness higher share prices due to the impact of the prices of its component stocks.
Foreign currency fluctuations
Excluding the impact of foreign currency fluctuations, Cigna managed to achieve YoY revenue growth of about 12% in the international business in 2015. The currency impact was a result of the translation of local market revenues to US dollars.
However, Cigna does not have any exposure to cross-border exchange rates, with revenues in one currency and expenses in another currency. Since Cigna has a solid asset base in local markets, it can continue to serve local needs and expect strong margins from this business in future years.