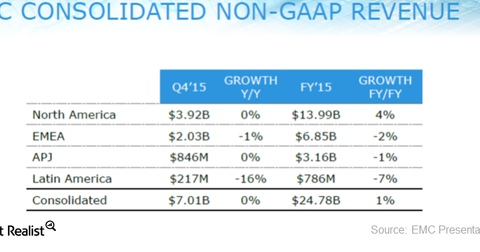 How Did China and the Middle East Impact EMC's Revenues?
By Adam Rogers

Updated
Revenues fall as economies are pressured
EMC (EMC) CEO Joe Tucci stated that 4Q15 was the 24th straight quarter that EMC posted a growth in revenues. However, revenues generated from emerging markets (EEM) fell significantly due to macro factors affecting the performance of these economies.
EMC experienced business declines in Russia (RSX) and parts of the Middle East due to geopolitical unrest in these regions. Tucci said that "we experienced declines in our business in China as the country faced issues with their equity and housing markets leading to a lowering of IT imports. And we experienced significant currency fluctuations and a strong dollar."
The strong dollar also impacted revenues of other tech heavyweights, including Hewlett-Packard (HPQ), Apple (AAPL), and IBM (IBM).
Article continues below advertisement
Revenues rise 1% year-over-year 
Last month, EMC (EMC) announced its 4Q15 and 2015 results. Revenues were flat in 4Q15 YoY (year-over-year), at $7.0 billion, and rose by 1% YoY in calendar 2015 to $24.8 billion. As shown in the above chart, revenues from North America were flat YoY in 4Q15 at $3.9 billion and rose 4% YoY to $14.0 billion in 2015.
Revenues from Europe, the Middle East, and Asia fell 1% YoY in 4Q15 to $2.0 billion and fell 2% YoY to $6.9 billion in 2015. Revenues generated from Asia-Pacific and Japan were flat YoY in 4Q15 at $846 million and fell 1% YoY to $3.2 billion in 2015. Revenues from Latin America fell 16% YoY in 4Q15 to $217 million and fell 7% YoY to $786 million in 2015.