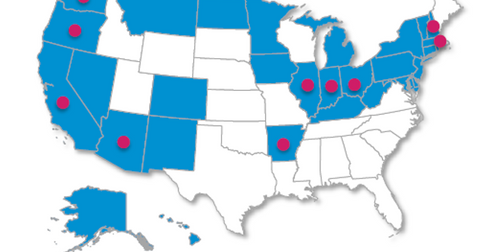 Centene's Hunt for New Growth Opportunities in Existing Markets
By Margaret Patrick

Updated
Centene's existing markets
To boost its profit margins, Centene Corporation (CNC) has been exploring new growth opportunities in its existing markets of Arkansas, Arizona, Missouri, and Massachusetts. Additionally, Centene also considers Medicaid expansion in existing markets as a key growth opportunity.
The company believes that if all its markets adopt Medicaid expansion, it would result in 4 million additional members becoming eligible for Medicaid. (For more about Centene's efforts to grow in its existing markets, please refer to "Centene Is Capitalizing on State-Based Opportunities.")
Article continues below advertisement
Medicaid expansion
The above graph shows that 31 states in the US have already adopted the Medicaid expansion program. Centene, combined with Health Net (HNT), would offer services to about 1 million members under the expanded Medicaid program. In 2015, Centene offered services to about 450,000 members under the Medicaid expansion program, which is almost twice what the company served in 2014.
On January 12, 2016, Governor Edwards of Louisiana signed Medicaid expansion legislation for the state, which is expected to be implemented by July 1, 2016. Centene and its peers UnitedHealth Group (UNH), Anthem (ANTM), and Aetna are expected to benefit from this legislation. Centene has also witnessed slightly lower medical costs for Medicaid expansion members than the usual Medicaid population, as the former general suffers from less severe ailments. Hence, Louisiana Medicaid expansion may also result in improved operating margins for Centene and other health insurers.
Other growth opportunities
Centene is one of the health insurers offering Medicaid services in Arkansas under the state's private option program. Arkansas has received the section 1115 waiver from CMS (Centers of Medicare and Medicaid Services) for implementing the US federal government's Medicaid expansion plan. The Health Reform Legislative Task Force in the state has recommended the need for managed care services for the special needs population. Centene expects to capitalize this opportunity for earning revenues in future years.
Centene has also targeted the markets of Arizona, Missouri, and Massachusetts for further geographic penetration in these states.
If Centene becomes successful in expanding its presence in these markets, it would mean higher profit margins and a subsequent rise in share price for the company. It would also prove beneficial for share prices in the iShares US Healthcare Providers ETF (IHF), as Centene accounts for about 2.5% of IHF's total holdings.
In the next part, we'll explore Centene's rationale in acquiring Health Net and discuss synergies.