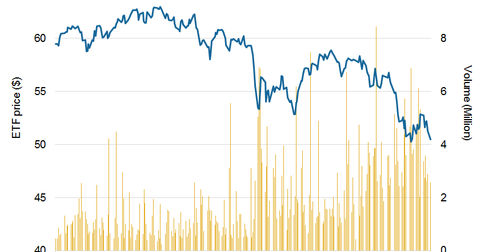 BlackRock, Blackstone, and Financials Fall on Recession Fears
By Robert Karr

Updated
Global recession
Global equities fell steeply on February 8, 2016, on investor fears of global recession and a slowing economy. The MSCI All-Country World Index ETF (ACWI) has fallen by more than 18% from an all-time high in May 2015, mainly due to falling commodities, slowing global manufacturing, and stagnant services.
Amid this slowdown, asset managers, banks, and other financial stocks have fallen steeply. BlackRock (BLK), the world's biggest asset manager, fell 4.7% on February 8. It's fallen 18% over the past three months. Blackstone (BX), the world's biggest alternative asset manager, fell by 7.7% in a single day. It's fallen 26% over the past three months.
Asset managers have suffered a double blow as investors have continually been withdrawing from actively managed funds and are deploying money into passive investment options such as ETFs, which carry lower costs.
ETFs and other passively managed funds carry lower fees, so the overall revenues and profitability of asset managers have been impacted over the past few quarters.
Article continues below advertisement
Recent performance
BlackRock reported net income of $861 million in 4Q15, up by 6% from $813 million in the prior year's quarter. Reported revenues were $2.9 billion, up by 3% compared to the prior year's quarter. Blackstone reported an economic net income of $436 million in the fourth quarter, mainly due to lower performance fees.
Other major asset managers State Street (STT) and Legg Mason (LM) have fallen by 27% and 42%, respectively, compared to an 11.7% fall in the S&P 500 (SPY).
European banks
European stocks fell on the expectation of slowing growth driven by lower exports as economies weaken across the globe. European banks Deutsche Bank and Credit Suisse have fallen by 44% and 41%, respectively. Some of the major banks are trading below their post-2007 crisis levels.
Developed economies are seeing near-zero interest rates, and with the global economy slowing, interest rates are expected to remain low for the long term. Monetary policies are ineffective, so the only major weapon for governments across the globe is quantitative easing through money printing and spending.