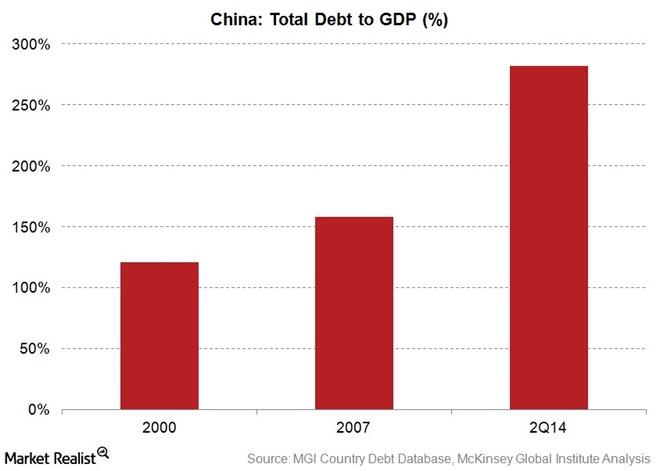 Gross Recommends Avoiding High-Risk Markets and Staying Vanilla
By Surbhi Jain

Dec. 4 2020, Updated 10:53 a.m. ET
China is the most "addled"
There's another central bank that Bill Gross finds "addled" in its ways: the People's Bank of China (or PBoC). China (FXI) is the economy that seems the most addled currently. In his investment outlook for February 2016, Bill Gross put forth the list of issues that the PBoC currently needs to tackle:
a total debt-to-GDP of almost 300%
under-the-table capital controls
the loss of $1 trillion in government reserves in order to support its overvalued currency
an investment-to-GDP ratio of 50%, which makes the transition to a consumer-led future a herculean task
Article continues below advertisement
Corporate deleveraging is yet to happen in the US
The case with the US (SPY) (IWM) (QQQ) seems a bit different. 85% of the economy's growth is internally generated. IT follows a model that relies on consumption, which in turn is dependent on job and wage growth. Employment metrics in the US seem to be improving steadily. The unemployment rate is down to 5%, and wage growth should improve once inflation picks up. In fact, Gross has been recommending US ten-year TIPS (Treasury inflation-protected securities) due to expected higher inflation.
However, Gross does not fail to mention that in the US, "the household sector has delevered, but the corporate sector never did." The rising spread between the investment-grade (LQD) and junk (JNK) (HYG) debt is something investors should remain wary of. We may see corporate profitability and solvency come under pressure once corporate deleveraging kicks in, especially for commodity-sensitive industries.
In the current market environment, Gross recommends staying plain vanilla. His advice is to avoid high-risk markets.
You may be interested to read, Deflationary Pressures Rising: Where Is Soros Putting His Money?