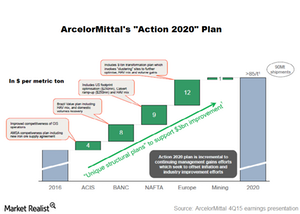 ArcelorMittal Provides a 5-Year Roadmap to Increase Profitability
By Mohit Oberoi, CFA

Updated
Profitability
Previously, we've seen that ArcelorMittal (MT) is looking at fresh measures to cut its debt burden. Along with these measures, the company has also announced a series of measures to increase its per-ton profitability by 2020.
The plan looks at improving per-ton EBITDA (earnings before interest, tax, depreciation, and amortization) to $85 per metric ton by 2020—up from $62 per metric ton in 2015.
Europe
The chart above shows the measures announced by ArcelorMittal that will help the company to structurally improve its EBITDA by 2020. As you can see, the company is looking at optimizing operations across all its business segments over the next five years. The biggest improvement of $12 per metric ton is expected to come from Europe. This is not surprising, given the fact that the company gets almost half of its revenues from the region.
According to ArcelorMittal, it's looking at a transformation plan in Europe that will help it to realize $1 billion worth of savings. The plan includes clustering sites and volume gains. Moreover, the company is looking at improving its product mix, and it will offer more value-added products in Europe.
MT is also looking at improving its product mix in Brazil as well as NAFTA (North American Free Trade Agreement) countries. It's important to note that value-added products help steelmakers to improve their profitabilities because these products generally have better profit margins over standard grade steel products. Furthermore, value-added steel products are more immune to import pressures.
NAFTA
In NAFTA countries, ArcelorMittal expects its Calvert ramp-up to contribute to its profitability. The Calvert facility produces automotive grade steel products and is crucial for ArcelorMittal's Action 2020 plan. Demand from the automotive industry has been a pillar of support for steelmakers in an otherwise dull market.
ArcelorMittal is the leading steel supplier to the automotive sector. AK Steel (AKS) and Allegheny Technology (ATI) also supply steel to the automotive sector while Nucor (NUE) has been aggressively expanding its footprint in this key end market. Currently, Nucor forms 2.9% of the Materials Select Sector SPDR ETF (XLB).
How achievable are these stiff profitability targets? We'll explore this question in the next part of the series.
Correction: This article originally claimed that AK Steel and Allegheny Technology were the leading automotive steel suppliers. ArcelorMittal is actually the leading supplier. We have updated the post with this correction. We regret this error.