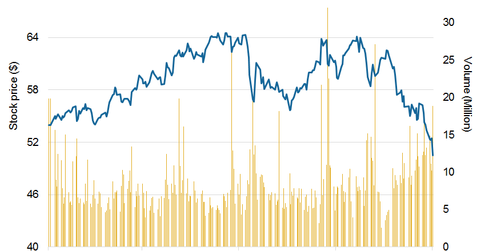 AIG Plans Hedge Fund Exits and Buybacks amid 4Q15 Losses
By Robert Karr

Updated
Fourth quarter losses
American International Group (AIG) reported its 4Q15 earnings results on February 11, 2016. With an operating loss per share of $1.10, the company missed Wall Street analysts' loss per share estimates of $0.91.
AIG reported an operating loss of $1.3 billion as compared to an operating profit of $1.4 billion in the corresponding quarter last year. The losses were primarily due to adverse prior-year reserve development and lower returns on alternative investments. The company is planning to exit its hedge fund positions and boost the buyback of its own stock.
Article continues below advertisement
On October 28, 2015, billionaire investor Carl Icahn wrote a letter to AIG's CEO, Peter Hancock, suggesting that AIG split into three companies: one providing property-casualty coverage, another offering life insurance, and another backing mortgages. The fight has only intensified after the company's weak operating performance.
In a press release on February 11, 2016, AIG president and CEO, Peter D. Hancock, stated "At the beginning of 2015, we embarked on a three-year plan to transform AIG. Over the past year, we have been implementing our strategy and made significant progress towards our objectives. During the fourth quarter, we streamlined our management structure to accelerate decision-making and strengthen accountability. Our recent strategy update detailed the next chapter of our transformation into a leaner, more profitable and focused insurer."
Insurance giant
AIG is one of the largest insurers in the United States. AIG's annual revenue is around $65 billion, and the company operates across the globe in multiple product lines.
The Americas region remains the major contributor toward AIG's top line, providing ~50% of property and casualty premiums and 97% of life insurance revenues. In the United States, AIG's competitors include ACE (ACE), Allstate (ALL), and Chubb (CB). Together these companies form 0.88% of the Vanguard Dividend Appreciation ETF (VIG).
AIG's new leadership team, led by Hancock, took charge in September 2014 to integrate and position the company for improved and sustainable performance. Hancock has a strong track record in the financial services industry, and he served as CEO of AIG's property and casualty division before his current role as the company CEO.
In the following parts of the series, we will discuss AIG's strategy for expansion, operating divisions, leverage, Icahn's proposal, dividends, and valuations.