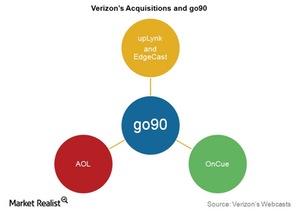 Verizon on Past Acquisitions and go90
By Ray Sheffer

Dec. 4 2020, Updated 10:53 a.m. ET
Verizon's acquisitions before go90
In the next two parts, we'll look at Verizon's (VZ) go90, which is a mobile OTT (over-the-top) service. During the Citi Internet, Media & Telecommunications Conference on January 6, 2016, Verizon's executive vice president and president of Product Innovation and New Businesses, Marni Walden, talked about the company's past acquisitions that have contributed to the service.
According to Walden, "if you look back over the last year plus, we've been assembling a number of assets. So it started out with EdgeCast and UpLink, which formed our digital media business." She added that "we also did the Intel Media acquisition," and that "putting all of those assets together, we started to form what we internally call media co. Intel Media, and this is what led to go90," and "we realized that we needed a capability in ad tech and that's what led us to the AOL acquisition."
Article continues below advertisement
How did these acquisitions boost Verizon's capabilities?
According to the company, upLynk, a multidevice video encoding service, and EdgeCast, a CDN (content delivery network), boosted its capabilities to distribute video content efficiently. Verizon bought these companies in 2013. Additionally, in 2014, it acquired Intel's (INTC) OnCue, an Internet TV service, which was to be used in the user interface of the go90 service. In 2Q15, go90 got AOL's content as well as advertising capabilities.
You may consider investing in the iShares US Telecommunications ETF (IYZ) to get diversified exposure to Verizon. The telecom company made up ~10.3% of IYZ at the end of November 2015. IYZ held a total of ~18.6% in AT&T (T), T-Mobile (TMUS), and Sprint (S) as of the same date.