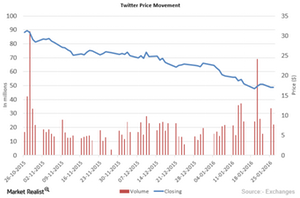 Twitter's New 'Moments' May Engage More Users
By Parker Thomas

Updated
Tying users to events
A day after announcing that Jack Dorsey would return to Twitter as CEO (chief executive officer), the company rolled out a new feature called Moments. It was called Project Lightning during its initial phases. Moments is a button on Twitter's social media mobile app (application). By pressing it, users can view pictures and videos of events as they happen.
The event could be breaking news or a current sports or entertainment event. Twitter has realized the great potential of live events to attract users to its platform. The company is working to post relevant and interesting content by organizing tweets into popular categories of live events, celebrities, and more.
Article continues below advertisement
Center of all content types
Moments will showcase live stories with images and videos. This will enable users to follow events in real time and prompt users to sign in and interact over the platform. Increased interaction with posted content on Twitter's platform will encourage users to retweet and invite friends interested in a specific content type. The content could be a live event such as an NFL game or the Academy Awards.
Moments could help boost Twitter's user growth. Twitter has been struggling for years to bring in new users and retain existing ones. According to Business Insider, more than 1 billion users have visited Twitter but have chosen to exit without signing in.
The PowerShares NASDAQ Internet (PNQI) is a portfolio of 94 stocks. Its top four stocks are Amazon (AMZN), Alphabet (GOOG), Facebook (FB), and Netflix (NFLX), which make up 9.1%, 8.7%, 8.3%, and 7.5%, respectively, of PNQI.