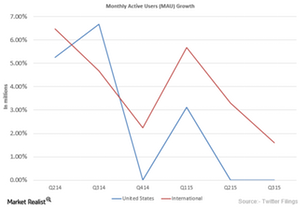 Twitter Faces a Tough Time Attracting Advertisers
By Parker Thomas

Updated
Advertisers prefer other ad platforms
Twitter (TWTR) shares ended 2015 and fell 35% as the company faces fierce competition from popular messaging apps such as Snapchat and Facebook's (FB) WhatsApp. Twitter struggled with sluggish growth in active users, and that led to a fall in its popularity and a loss of market appeal.
The company is losing its market appeal as more and more users are migrating to other social media sites such as Facebook (FB), Instagram, Pinterest, and mobile messaging apps like WeChat and Viber. All that was a factor in the fall in user engagement and Twitter's growth. As the chart above reflects, the users' growth from the domestic market remained flat, whereas, the international market showed a continuous fall since the first quarter of 2015.
Article continues below advertisement
Twitter is way behind Facebook
Digital advertising has been the key source of earning for Twitter as marketers shift from traditional ways to more data-driven and user-specific advertising. A lack of standard digital ad platforms, particularly social media ones, helps Twitter to survive at this stage. However, the advent of online video advertising could create trouble for the company, and Facebook has already started to expand its presence in video ads with the "autoplay" feature.
Twitter had around 100,000 advertisers in SMB (small and medium-sized businesses) in 2015, or twice what it had in 2014. However, this significant growth isn't sufficient for the company since it still needs to engage 300 million MAUs (monthly active users) to attract more advertisers. The current ratio of advertisers to MAUs is 1:3,000, compared to Facebook's roughly 1:1,000. Facebook's advertiser base is ahead of Twitter's in terms of each user.
The First Trust Dow Jones Internet Index Fund (FDN) is a portfolio of 41 stocks whose top four stocks include Amazon (AMZN), Facebook (FB), Netflix (NFLX), and Alphabet (GOOG). They constitute 11.5%, 10.4%, 5.6%, and 5.5%, respectively, of FDN.