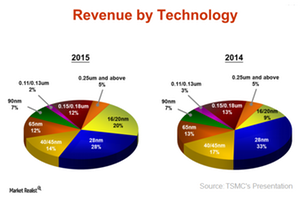 TSMC Moves to 16/20-Nanometer to Improve Its Margins
By Puja Tayal

Jan. 21 2016, Updated 10:07 a.m. ET
Revenue by technology
So far, we saw that chips used for communication and industrial applications accounted for more than 80% of TSMC's (TSM) revenue in fiscal 2015. In fiscal 2015, the company ramped up the 16-nm (or nanometer) production that improved its margins.
The company has shifted to advanced technology, with the share of 20-nm and 16-nm chips rising from just 9% in 2014 to 20% in 2015. Whereas, the share of 28-nm chips fell from 33% in fiscal 2014 to 28% in fiscal 2015. As the size of the node shrinks, more transistors are placed on a smaller wafer, making it denser. This increases the chip's performance and reduces the cost per transistor.
Article continues below advertisement
Technology roadmap for 2016
After facing slow growth in 2015, most semiconductor companies are ramping up production and upgrading technology in 2016 in preparation for an anticipated upswing in 2017. TSMC has committed to spending around $9 billion to $10 billion in capital in fiscal 2016 on:
ramping up the 16-nm technology
constructing a 12-inch wafer plant in Nanjing, China (MCHI)
commercially producing the 10-nm process by fiscal 4Q15
TSMC's chief financial officer Lora Ho stated that ~70% of the capital spending would be used to start the production of the 10-nm process. Rival Intel (INTC) plans to launch its 10-nm process in early 2017.
Race for the 7-nm technology
In TSMC's fiscal 4Q15 earnings call, its president and co-chief executive officer Mark Liu gave an update on the company's R&D (research and development) efforts in technology beyond 10-nm. He stated that the company is progressing with 7-nm technology as per the schedule and plans to launch volume production in 2018.
In July 2015, IBM (IBM), Samsung (SSNLF), and GlobalFoundries jointly developed a 7-nm chip. However, it's unclear when this chip's volume production will begin.
5-nm technology in the pipeline
Meanwhile, a dedicated R&D team at TSMC has been working on 5-nm technology for over a year and the company plans to begin commercial production in fiscal 1H20.
The rising demand for advanced manufacturing technology and the pressure of competing with Samsung and Intel forced TSMC to invest in 10-nm, 7-nm, and 5-nm technology. TSMC forecasts the global chip industry to grow by about 2% and the foundry sector to grow by 5% in 2016.