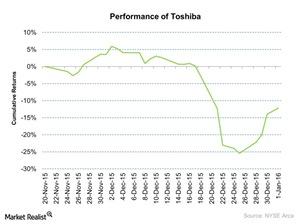 Toshiba Tops EWJ's Performance
By Sarah Sands

Jan. 6 2016, Updated 10:07 a.m. ET
EWJ's top performers
The iShares MSCI Japan ETF (EWJ) and the Wisdom Tree Japan Hedged Equity ETF (DXJ) closed lower on Monday, January 4, 2016. Let's look at the performance of EWJ's top performers that day.
Toshiba (TOSBF): 2%
Nagoya Railroad: 1.9%
Showa Shell: 1.3%
Article continues below advertisement
Reasons behind Toshiba's performance
Toshiba is on the way toward talks with INCJ (Innovation Network Corporation of Japan), a public-private partnership between the Japanese government and major corporations, about restructuring.
Toshiba is looking for a $2.5 billion bailout loan in order to get its finances in order after a huge accounting scandal.
It's difficult for Toshiba to raise cash since the accounting scandal left its debt rating reduced to junk.
The company has asked INCJ to find a partner for its white goods operation.
Toshiba's performance
Currently, Toshiba is trading at 255 yen. Its 52-week high is 535 yen. Its 52-week low is 214.30 yen. The stock's current PE (price-to-earnings) ratio is 7.8x. It's relatively cheaper than Sharp, which is 23.84x. The stock is trading 21%, 15%, and 8% below its 100-day, 50-day, and 20-day moving averages, respectively.
The stock has been struggling to cross its 100-day moving average in the last four months. Currently, the stock is trading at an RSI (Relative Strength Index) of 70–30. This indicates that the stock is neither overbought nor oversold.
Read EWJ Followed Global Footprints, Ended 2015 on a Negative Note to learn more.