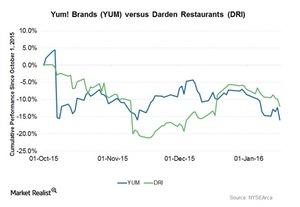 Sluggish Economic Data May Have Shaken Upbeat Consumer Sentiment
By Renee Blakely

Jan. 20 2016, Updated 9:06 a.m. ET
Economic overview: Retail sales
As per the retail trade survey conducted by the U.S. Census Bureau, the monthly retail sales change for December 2015 came in at -0.1% against the prior reading of 0.4%. It reflected a contraction in electronics, appliances, and vehicles sales despite low fuel costs, holiday shopping discounts, sales, and a strong labor market.
Such a report lowered expectations for fourth-quarter growth. As a result, stocks of Carmax (KMX), AutoNation (AN), Yum! Brands (YUM), and Darden Restaurants (DRI) fell 4.3%, 2.1%, 4.2%, and 2.3%, respectively, on January 15, 2016.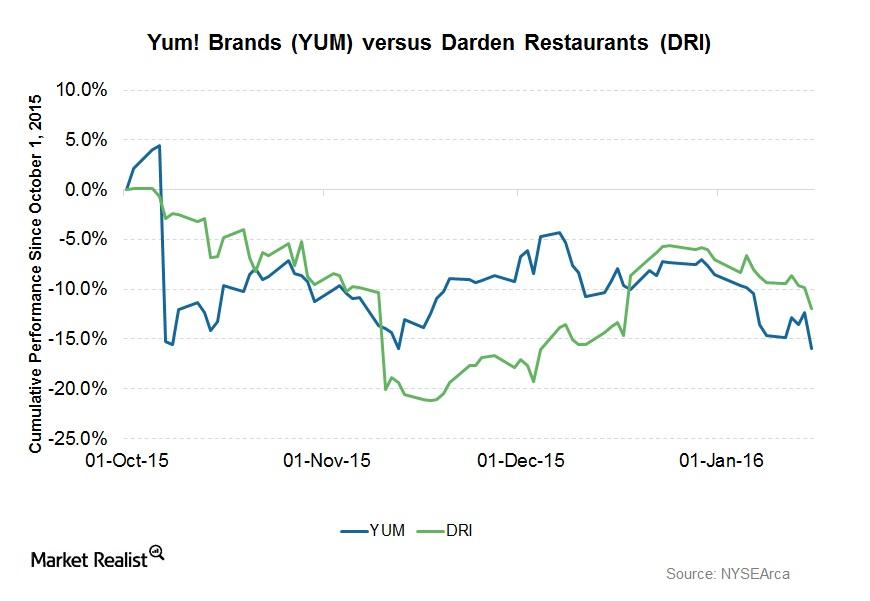 The above graph compares the stock price movement of Yum! Brands and Darden Restaurants since October 2015.
Article continues below advertisement
Why would consumer confidence shake?
The producer price index for December 2015 fell below the consensus estimate, recording a 0.2% fall against the prior reading of a 0.3% rise.
According to the Empire State Manufacturing Survey, the General Business Condition Index fell to -19.4 for January 2016 from -4.6 in the prior reading. The report reflects the weakness in the factory sector. Industrial production for December 2015 registered a fall of 0.4%. Overall, there was a contraction in factory activity, which is quite a concern and draws the strength of the economy into question.
The consumer sentiment level for January 2016 looked positive at 93.3 compared to its prior reading of 92.6. However, the current scenario of the world stock markets and the slowdown of global growth have the potential to impact consumer confidence. This is because a considerable portion of household income is directed toward the equities.
According to Bank of America Merrill Lynch, the loss in stock markets around the world has amounted to $5.7 trillion. Such a loss in the value of financial assets of investors, especially individual investors, will lead to less consumer spending in the future. Less spending will contribute to further contraction in economic activity, and the vicious cycle will continue.
Let's look at the key stocks of the SPDR S&P 500 ETF (SPY) on January 15, 2016.