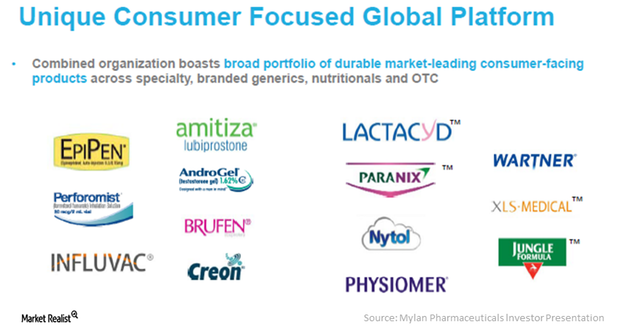 Sizing up Mylan's Blockbuster Drugs: Perforomist, Ultiva, and Emsam
By Seth Richards

Jan. 7 2016, Updated 8:08 a.m. ET
Mylan's blockbuster drugs
Mylan NV (MYL) is the generic drug leader in the US prescription drug market with blockbuster drugs such as Perforomist, Ultiva, and Emsam.
Article continues below advertisement
The Perforomist inhaler
Perforomist is one of Mylan's biggest winners, used for the treatment of COPD (Chronic Obstructive Pulmonary Disease). According to Mylan, COPD is a "progressive condition that causes inflammation in the airways, making it difficult to breathe."
The company's website further explains that COPD is a serious medical condition and that there is no therapy available for curing the disease. The Perforomist inhaler is a long-term therapy, used to reduce the symptoms of COPD, and is administered twice a day to the patients.
The Emsam patch
Emsam is a transdermal patch used for the treatment of major depressive disorders such as loss of appetite, significant changes in weight, insomnia, and severe headache. The FDA (US Food and Drug Administration) approved Emsam on February 28, 2006.
Emsam contains selegiline, which is used for the treatment of PD (Parkinson's disease). Parkinson.org defines PD as a "neurodegenerative brain disorder that progress slowly in most people" that takes years to develop, meaning that people can "live for years with the disease."
According to the American Parkinson Disease Association, there are more than one million people living with Parkinson's disease in the US.
Ultiva
Ultiva is a narcotic medicine used for general anesthesia in surgery. WebMD explains anesthesia as a "way to control pain during surgery or procedure by using medicines called anesthetics," which can "help control your breathing, blood pressure, blood flow, and heart rate and rhythm."
General anesthesia drugs such as Baxter's (BAX) Suprane, Merck's (MRK) Zemuron, Pfizer's (PFE) Bupivacaine Spinal are expected to pose tough competition to Ultiva in the anesthetic drug market.
Instead of directly investing in Mylan, investors can get diversified exposure to Mylan's stock by investing in the SPDR S&P Pharmaceuticals ETF (XPH), which has 3.8% of its total holdings in Mylan's stock.
Continue to the next part of this series for a broader look at Mylan's product portfolio.