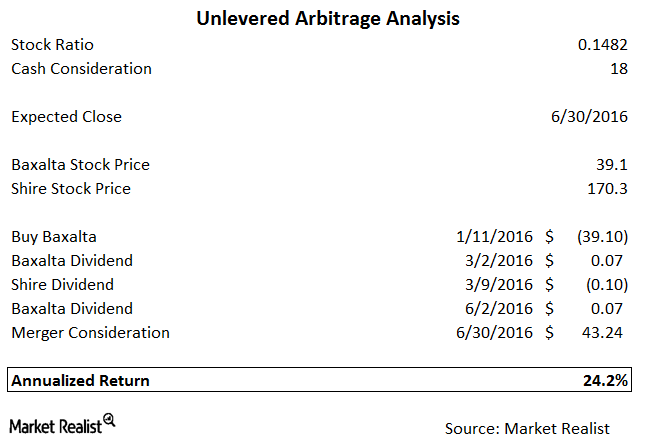 Shire Seals the Deal with Baxalta after a Long Negotiation
By Brent Nyitray, CFA, MBA

Jan. 14 2016, Updated 7:19 a.m. ET
Merger arbitrage
For merger arbitrage, an investor generally buys the stock of the company being acquired, short sells the relevant ratio of the acquirer's stock if applicable, and waits for the deal to close. When the merger is complete, the investor exchanges the stock of the company being acquired for the amount agreed on in the deal.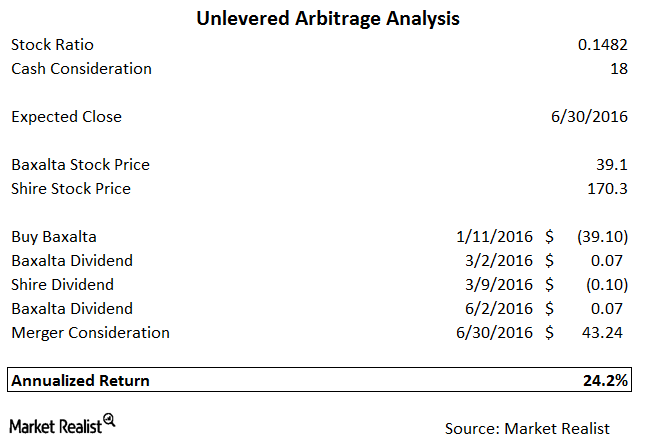 Article continues below advertisement
Shire adds cash to seal the deal
On Monday, January 11, 2016, Shire (SHPG) agreed to buy Baxalta (BXLT) for a combination of cash and stock. BXLT shareholders will receive ~0.15 shares of SHPG plus $18.0 cash per share of BXLT. Shire approached Baxalta in mid-2015 but was unable to come to terms for a deal. After adding cash, Baxalta agreed to be bought.
According to the press release, the deal is expected to close in mid-2016. If you assume a closing date of June 30, 2016, then the Baxalta–Shire merger spread is trading at an annualized return of about 25%. Note that the companies haven't received a letter from the IRS (Internal Revenue Service) confirming that this will be a tax-free transaction. The companies have discussed the transaction with bankers and counsel, and have comfort that it will be tax-free, however, it isn't a certainty. This is one of the explanations for the wide spread.
Other merger arbitrage resources