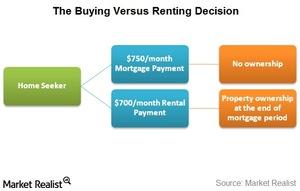 To Rent or to Buy? That Is (Still) the Question
By Surbhi Jain

Jan. 26 2016, Updated 4:34 p.m. ET
To buy or to rent? That is the question
When you're looking for shelter, you always run into the buying or renting question. Renting does give you a place to stay. However, it doesn't provide you any ownership. On the other hand, if you buy a house, your payments—which are much larger than rental payments—add to your equity. With every payment, you gain more ownership of your home.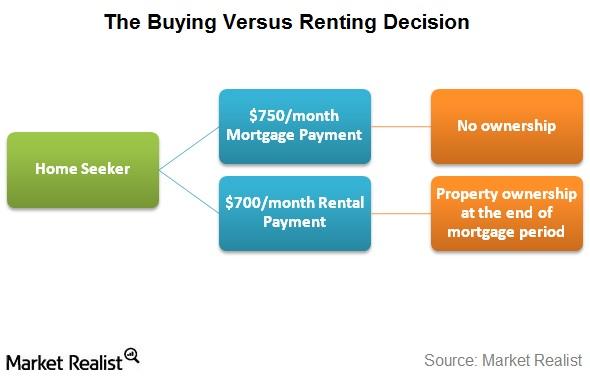 Article continues below advertisement
Buying makes more financial sense in the current market
At the turn of the financial crisis, with the collapse of the housing market, mortgage holders' properties became worthless. This led to the US (SPY) (IWM) (QQQ) public becoming wary of taking on mortgages. That's when the US Fed brought interest rates to the ground level. With interest rates so low, the Fed intended to incentivize the public to take up mortgages and revive the lost confidence in the housing market.
In an ultra-low interest rate environment, buying tends to make more financial sense than renting. For example, if you're spending $700 a month on a rental, you could instead spend $750 a month to own a home over a 15–30-year-mortgage. However, data seems to suggest that the US population is still wary of buying  a home while the rental economy has continued to boom. We're still seeing more renters than buyers out there.
Why has the rental economy continued to boom?
For many people, the buying versus renting decision is driven by lifestyle more than economics. And lifestyles have changed drastically. We're seeing Millennials waiting longer to start a family. In effect, this decision delays home purchases. And 40% of the population is single!
When it comes to housing, the government plays a pivotal yet indispensable role. Let's see how the US government has been working to shape the US real estate sector (IYR) (VNQ).