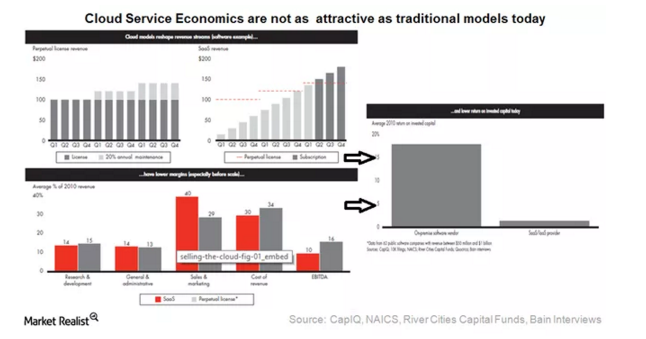 SAP's Cloud Transition Could Negatively Affect Margins
By Anne Shields

Jan. 26 2016, Updated 1:54 p.m. ET
SAP's transition to the cloud could affect its margins
Earlier, we discussed SAP's (SAP) software licenses, as well as its support and cloud offerings in fiscal 4Q15 and 2015. The greater traction of the company's cloud offerings and its growing optimism regarding its stance in the cloud space enabled SAP to raise its future guidance. Looking at the company's increased emphasis on the cloud for its revenue growth, it's clear that the company is well on its way to its shift toward the cloud.

Let's see how SAP's transition from software licensing to the cloud could impact its margins. Cloud-based subscription revenue is recognized over an extended period. In contrast, software revenue boosts the top line immediately.
Article continues below advertisement
As the graph above shows, the cloud is usually associated with lower margins, leading to lower returns on invested capital. Lower margins mean lower profitability, consequently impacting the company's share prices. Rising contributions of cloud revenues and their associated benefits could be offset by the contraction in its gross margins. The cloud reduces the cost of ownership and usage of technology, posing a threat to leading software companies. To date, those software companies have been deriving the majority of their revenues from subscription licensing. Microsoft (MSFT), Oracle (ORCL), and IBM (IBM) are all leading legacy software companies that have to bear this brunt of greater cloud adoption.
SAP's revenue growth from the cloud
According to Frederick Grieb, an analyst at Nomura, SAP's transition to the cloud led to an operating margin of 35.9% in fiscal 4Q15. This was not only lower than analysts' estimates, but also three percentage points lower from 4Q14.
In the past, SAP stated that it expected an operating margin of 35% by 2017. However, the company moved away from this statement. In the company's recent fiscal 4Q15 earnings release, SAP's chief financial officer Luka Mucic stated, "The margin is really uninteresting to me." He further said, "There's no reason cloud margin shouldn't reach the level of on-premises software, but that will take substantially longer than this decade."
You could consider investing in the First Trust ISE Cloud Computing Index Fund (SKYY) to gain exposure to SAP, as it makes up ~3.7% of SKYY. Investors interested in application software exposure could also consider SKYY since application software makes up ~50% of the ETF.