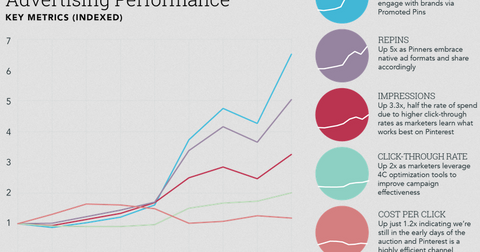 Pinterest to Take E-Commerce Stake with Its New Acquisitions
By Parker Thomas

Updated
Pinterest acquires Hunt and Pext
In social media marketing, businesses want to focus more on connecting people by attracting users with product images and videos rather than simply selling products to the end users. Companies such as Starbucks (SBUX) and General Electronics (GE) have been attracting users by sharing images and short videos to promote their products. To take advantage of this opportunity, Pinterest has equipped itself to improve its photo sharing web portal by acquiring two companies, Hunt and Pext.
Hunt is a platform that allows users to find products they are willing to purchase. Users can upload photos of an item or a product from Yahoo's (YHOO) Tumblr, Pinterest, and Facebook's (FB) Instagram, and other users can help them find where those products can be purchased.
The Hunt has raised $15.5 million from investors, and it has around 4 million registered users. Similarly, Pext is an app that helps users discover images relevant to their message and convert them into memes—an image with underling text.
Article continues below advertisement
Number of pinners doubled
In June 2015, Pinterest launched buyable pins, helping pinners—people sharing images and links—to buy products within Pinterest itself. In fact, the number of buyable (blue-colored) pins showed a rise from 30 million in June 2015 to 60 million in October 2015.
According to Millward Brown, "93% of Pinners use Pinterest to plan purchases and 87% of Pinners have purchased something because of Pinterest." According to Pinterest, the number of searches has risen by 81% in 2015 compared to last year, and the number of pinners has doubled in the last 18 months.
Yahoo (YHOO) constitutes 0.16% of the SPDR S&P 500 ETF (SPY).