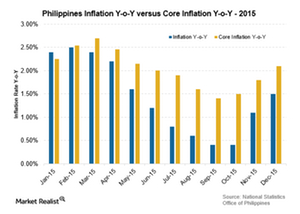 Philippine Peso Gained as the Global Markets Calmed Down
By David Meyer

Nov. 20 2020, Updated 4:48 p.m. ET
Philippine peso rose
The Philippine peso gained against the US dollar on January 5, 2016, after recording losses in the previous session. It recorded losses due to outflows from emerging markets following reports of slowing manufacturing activity in China. On January 5, the global markets stabilized as China took measures to prop up its domestic markets. This provided strength to its Asian currency peers including the Indonesian rupiah, Malaysian ringgit, and the Philippine peso. There was also a rebound in important metals and other commodities. This led to appreciation in Latin American currencies like the Brazilian real and the Chilean peso. The Philippine peso witnessed continued depreciation against the US dollar in 2015 due to foreign investment outflows and strength in the US Dollar Index.
Article continues below advertisement
Rise in December inflation increases confidence
The sentiment in the Philippine peso was fostered by higher-than-expected consumer inflation in December. Consumer prices rose by 1.5% on an annual basis in December compared to forecasts of a 1.4% and 1.1% rise in the previous month. On a monthly basis, inflation levels increased in line with the estimates. The levels increased by 0.2% in December—compared to 0.5% in November. The core inflation rate for December was 2.1%. It was higher than 1.8% in November.
Full-year inflation still remains below the target level of 2%–4% anticipated by Bangko Sentral ng Pilipinas (BSP) Governor Amando Maglalang Tetangco Jr. However, the forecasts for the next two years are expected to fall in line with the expected target. Socioeconomic Planning Secretary Arsenio M. Balisacan stated that a depressed environment in consumer prices was expected in 2015 due to falling crude and commodity prices and favorable supply-side factors.
Impact on the market
Tracking the rise in the Philippine peso, the iShares MSCI Philippines ETF (EPHE) rose by 0.60% on January 5, 2016. The iShares MSCI Emerging Markets ETF (EEM) rose by 0.22% after a big fall in the previous session.
South Asian ADRs (American depositary receipts) were trading on a positive note. PT Telekomunikasi Indonesia Tbk (TLK) rose by 3.4%. On the other hand, Philippine Long Distance Telephone (PHI) rose by 3.0%. Chunghwa Telecom (CHT), a company in Taiwan, rose by 0.20%.