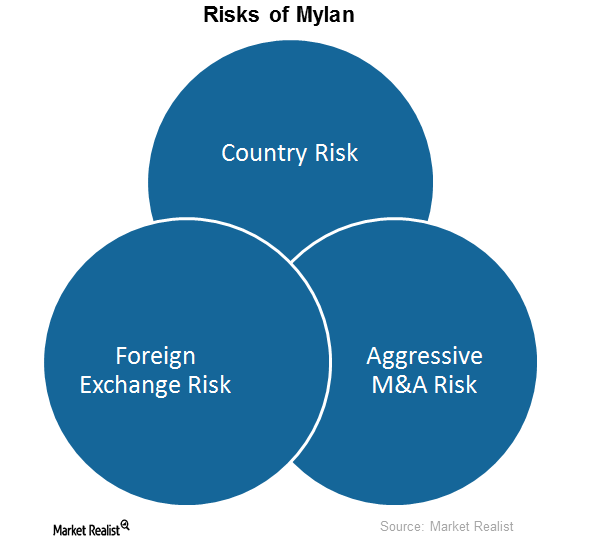 Measuring Mylan's Biggest Risks Moving Forward
By Seth Richards

Jan. 21 2016, Updated 7:04 p.m. ET
Mylan's key risks
In addition to the risks associated with the generic pharmaceutical industry, Mylan (MYL) also faces the following company-specific business risks:
country risk
foreign exchange risk
aggressive M&A risk

Article continues below advertisement
Country risk
Mylan operates in more than 140 countries. Hence, the company is exposed to each country's volatility towards economy, fluctuations in exchange rates, natural disasters like drought, floods, and earthquake, government uncertainties, and limited third-party insurance coverage.
Mylan is also exposed to local laws and regulations related to drug approvals and new product launches.  Failure to comply with any regulatory guidelines may prevent or delay the company's operating strategy.
Foreign exchange risk
In 2014, Mylan earned 42% of revenue from its international markets. Hence, Mylan is exposed to foreign currency risks in European, Indian, Japanese, and other emerging market currencies as changing dollar rates can affect profitability margins. To mitigate these risks, Mylan entered into several foreign exchange forward contracts. So any change in fair value of the contract will likely affect the company's income.
Article continues below advertisement
Aggressive M&A strategy risk
Mylan has adopted an aggressive M&A (mergers and acquisitions) strategy to expand its business. However, ineffective acquisitions can be risky for the combined business. The acquisition may also take more time and delay the synergies expected from the deal.
In 2015, Mylan made a hostile bid for acquiring Perrigo, but it finally failed to conclude the deal. This failure resulted in loss related to the advisory fees paid to investment banks such as Goldman Sachs and Bank of America, as well as law firms like Cravath and Swine & Moore.
Mylan's aggressive M&A strategy may lead to other hostile bids in the future. If completed, hostile bids are subject to higher post-merger integration risks. Mylan may land up suffering substantial losses in case of failure of such hostile acquisitions.
Competition and ETF exposure
To be sure, other pharmaceutical companies like Takeda Pharmaceuticals International (TKPYY), Valeant Pharmaceutical International (VRX), and Zoetis (ZTS) also experience similar risks while they compete with Mylan.
Investors can get diversified exposure to Mylan by investing in the PowerShares Dynamic Pharmaceuticals Portfolio ETF (PJP), which has 4.1% of its total holdings in Mylan's stock.
Continue to the next part for an analysis of Mylan's operating expenses.