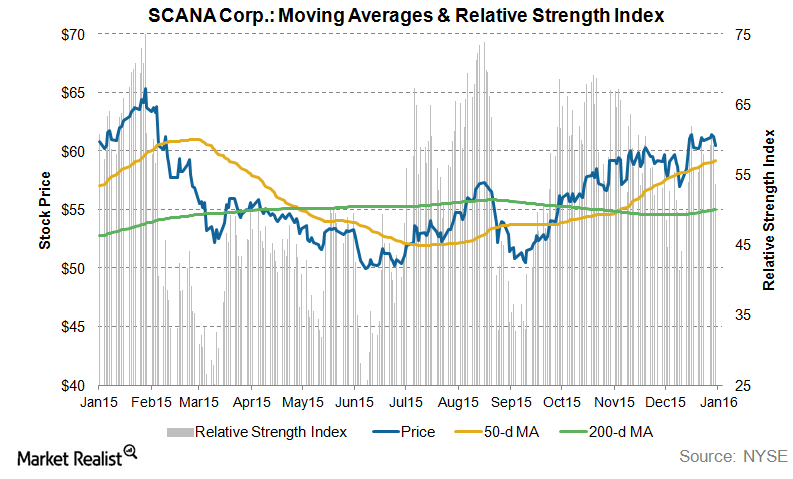 Momentum Oscillators Suggest a Bearish Trend for SCANA
By Vineet Kulkarni

Jan. 5 2016, Updated 1:01 p.m. ET
Market performance
SCANA Corporation (SCG) displayed a big downturn in the first half of 2015. However, positive quarterly results in the second half pulled SCANA stock back and posted strong recovery. In all, shares of SCANA rose by 3% in 2015. The speculation on the interest rate hike weighed high on utilities last year. As a result, utilities as a sector corrected 7% during 2015. The FOMC (Federal Open Market Committee) raised its short-term benchmark interest rates by 25 basis points on December 16, 2015. A projected series of rate hikes this year may be a useful indicator for utilities' performance for investors.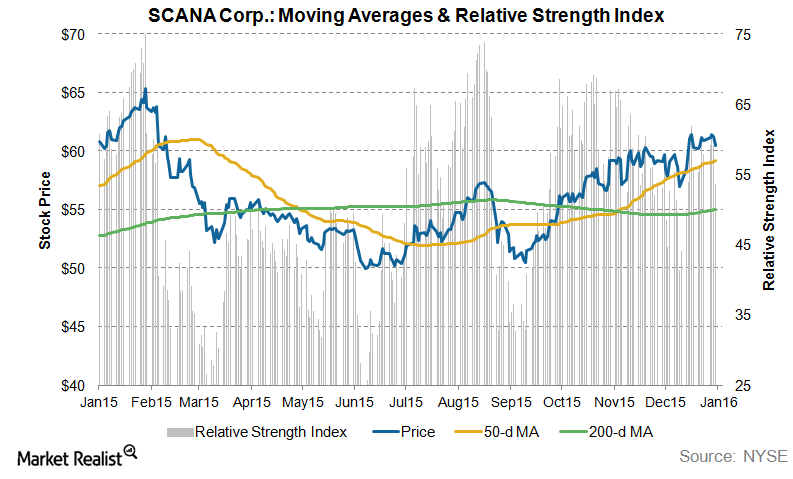 Article continues below advertisement
Technical indicators
Currently, SCANA is trading below its 50-day and 200-day moving averages by 2% and 9%, respectively, as of December 31, 2015. A somewhat flat curve for the 200-day moving average depicts the horizontal movement of SCANA in the medium to long-term. The crossover of the 50-day and 200-day moving averages in late October last year indicated some bullishness in the stock. Shares of SCANA have been consistently trading near the RSI (Relative Strength Index) of 60. RSI peaked to 73 in August 2015, indicating an overbought zone. RSI is a momentum oscillator that takes the values between 0 and 100. Movements below 30 are considered an oversold zone while those above 70 are interpreted as an overbought zone.
Importance of natural gas business
SCANA (SCG) is engaged in both electric and natural gas business operations. Many utilities are enhancing their exposure beyond electric utility operations given the falling average electricity use per customer. The natural gas business contributes nearly 30% to SCANA's total revenues.
SCANA is further expanding its gas infrastructure assets to extend geographical reach. Industry behemoth Duke Energy (DUK) is also increasing its natural gas (UNG) business by acquiring Piedmont Natural Gas (PNY) while Southern Company (SO) is acquiring AGL Resources (GAS) to fortify its gas segment.