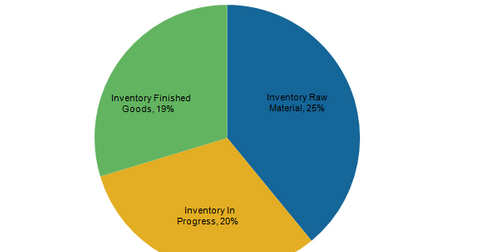 Mead Johnson's Capacity Expansion Initiatives Aim to Support Global Growth
By Diana Key

Updated
Mead Johnson's manufacturing and distribution
At the end of fiscal 2014, which for the company ended December 31, 2014, Mead Johnson Nutrition Company (MJN) had nine in-house manufacturing plants around the world, with supply in more than 50 countries. The company also uses third-party manufacturers for a portion of its requirements, and it uses third-party logistics service for distribution. Mead Johnson maintains four regional quality departments that assure quality control at manufacturing facilities.
Article continues below advertisement
Mead Johnson's capacity expansion
To support its extended growth, in September 2014, Mead Johnson unveiled its first spray dryer facility in Singapore, in its fast-growing Asian market. It also started capacity expansion projects in Europe and the US to support global growth initiatives. The company has one more addition in the form of latest technology and a learning center to the Mead Johnson Pediatric Nutrition Institute (MJPNI).
The company has been building capacity for its digital marketing and e-commerce expertise to connect with consumers who shop online.
Raw Material
At Mead Johnson, dairy products including milk powders, non-fat dry milk, lactose, and whey protein concentrates, accounted for approximately 48% of total expenditures for raw materials and approximately 32% of total costs of goods sold during fiscal 2014.
Notably, 75% of dairy buying happens for the company's Asia business, as a result of higher children's business in Asia. Mead Johnson sources about 80% of the required raw material and packaging material from approximately 30 suppliers worldwide, and its regional team ensures compliance with regulatory requirements and quality standards.
Recently, low dairy prices have been helping Mead Johnson and its peer with higher gross margins (see Part 12 of this series).
Mead Johnson's responsible sourcing
Mead Johnson follows a responsible sourcing policy. In 2014, the company started a three-year initiative to increase the sustainability of its palm oil. And it aims to meet these stringent certification goals by 2016. Meanwhile, it has achieved the goal of ethical sourcing of cocoa, and it's also become a member of WCF (World Cocoa Foundation).
According to Newsweek Green, MJN ranked tenth on corporate sustainability and environmental impact in June 2015, versus 90th in June 2014.
Many other major food companies (XLP) follow responsible sourcing policy, including Hershey Company (HSY), Nestlé SA (NSRGY), and Mondelēz International (MDLZ).
Continue to the next part for a deeper discussion of what Mead Johnson is doing on the digital front.