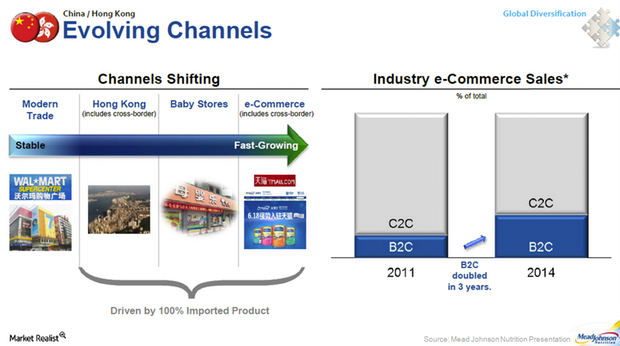 Mead Johnson Has Big Opportunities for Growth in China
By Diana Key

Jan. 23 2016, Updated 9:05 a.m. ET
Mead Johnson in China—a crucial market
Asia is the fastest-growing infant nutrition market, with an annual growth rate of 19%— mainly driven by China, according to Zenith International. Euromonitor expects baby formula sales in China to double in the next five years, from $19.9 billion to $40.6 billion in 2020.
In 2014, Mead Johnson Nutrition (MJN) generated 55% of its revenue from China and the US, which are the company's two largest infant and children nutrition markets in the world. China contributed about 31.3% of the company's total revenues in 2014, and China's infant and children nutrition business have been growing even faster than that of the US. Over the past five years, the company has achieved a CAGR (compound annual growth rate) of 13.1% in sales in China, whereas its US sales have grown at a CAGR of only 1% over the same period.
Article continues below advertisement
Opportunities in China
The company has a huge opportunity to develop its business in the fastest-growing segments in China. Below are a few key example opportunities:
Mead Johnson only has only one-third of baby stores and e-commerce distribution China.
Manufacturers in China have been trying to carry away sales from C2C (consumer-to-consumer) web commerce, and they have been working to build B2C (business-to-consumer) platforms. B2C is an e-commerce model denoting online sales between business and consumer. The company has witnessed B2C growing at nearly three times the rate of C2C, and B2C has doubled between 2011 and 2014.
The most popular social networking platform in China is currently WeChat, with more than 600 million subscribers. Mead Johnson uses WeChat to innovate and connect with Chinese consumers.
In November 2015, China terminated the decades-old, one-child policy, allowing the couples to have two children. The move has the potential of helping its infant and children's nutrition business to grow even further in China, and it may help leading baby food and baby product companies (XLP) in China like MJN, Nestlé (NSRGY), Danone, Procter & Gamble (PG), and Kimberly-Clark (KMB).
Now let's take a look at what Mead Johnson has been doing in the toddler category.