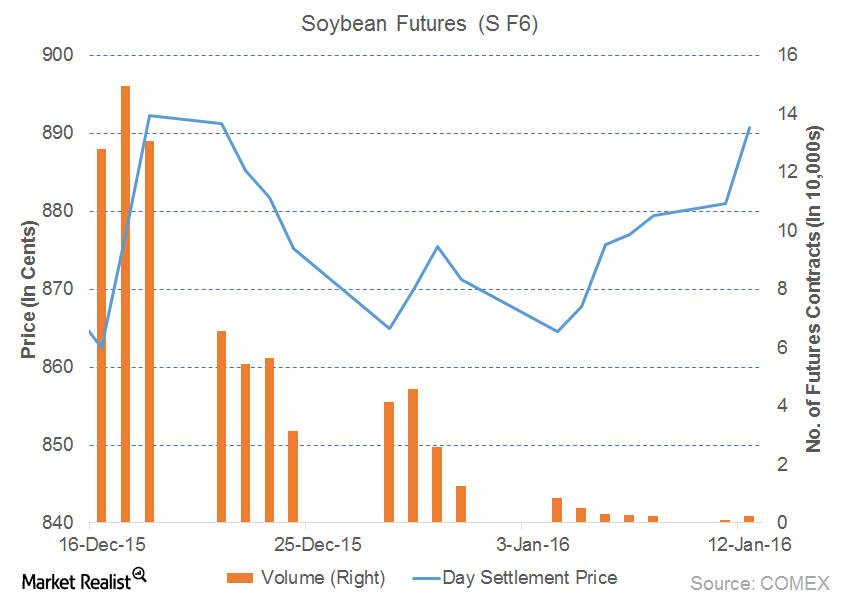 Lower-than-Expected Soybean Yield Supports Prices
By Sean Brown

Jan. 13 2016, Updated 10:45 a.m. ET
Soybean prices rise
Soybean futures contracts on the Chicago Board of Trade (or CBOT) for January expiry rose by 1.1% and settled at $8.90 per bushel on January 12, 2016. Soybean futures prices rose due to the lower-than-expected yield reported in the USDA's (U.S. Department of Agriculture) monthly WASDE (World Agricultural Supply and Demand Estimates) report.
Following the price movement on CBOT, the Teucrium Soybean ETF (SOYB) rose by 1.4% on January 12, 2016.
The WASDE report for January 2016 was released on January 12, 2016. The projection for US soybean area harvested for 2015–2016 fell by 0.6 million acres to 81.8 million acres compared to the December 2015 WASDE estimate.
Article continues below advertisement
The report raised its soybean yield estimate by 0.3 bushels per acre to 48 bushels per acre from the December 2015 projection. Analysts' consensus estimate was 48.5 bushels. At 440 million bushels, year-end US soybean inventories were 25 million bushels lower than the December WASDE projection. Inventories were 28 million bushels lower than analysts' consensus.
Lower-than-anticipated yield and carry-out adversely affected US soybean supply sentiment on January 12, 2016. It boosted soybean prices on the day.
The USDA's National Agriculture Statistics Service released grain inventory data for the September to November 2015 quarter. Soybean inventories were 2.71 billion bushels, lower than the consensus estimate of 2.72 billion bushels as of December 1, 2015. This was higher than December 2014 inventories by 14%.
On-farm soybean inventories were up 6%, and off-farm inventories were up 17%. Soybean disappearance was 5% lower than in the previous year. Lower-than-anticipated soybean inventories supported soybean prices on January 12, 2016.
Who benefits?
Fertilizer companies benefit from the rise in soybean prices, as it supports farm income and fertilizer sales. With the increase in soybean on January 12, 2016, Sociedad Quimica y Minera de Chile (SQM) and Enterprise Products Partners (EPD) rose by 2.8% and 1.0%, respectively.
Martin Midstream Partners (MMLP) and CVR Partners (UAN) fell by 0.94% and 5.3%, respectively, on January 12, 2016. The Materials Select Sector SPDR ETF (XLB) rose by 0.15% on the day.