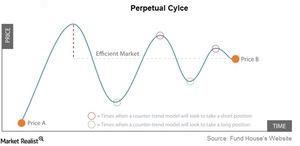 A Look at the AMFQX Fund's Investment Methodology
By Ivan Kading

Nov. 20 2020, Updated 2:11 p.m. ET
Short-term price extremes
The 361 Managed Futures Strategy Fund – Investor Class (AMFQX) is invested majorly in Apple (AAPL), Goldman Sachs (GS), HSBC Holdings (HSBC), and Bank of America (BAC) among others through their floating-rate notes. The fund primarily uses the "managed futures" strategy by taking long and short positions in the major US equity indexes (VFINX). This strategy is different from the long-short hedge fund strategy as it significantly uses futures contracts for taking exposure in various assets.
The fund investment decisions are made by systematic trading models that aim to capture the short-term price extremes that occur due to panic in the equity trading markets.
Article continues below advertisement
Counter-trend model
The AMFQX fund's investment model is primarily a counter-trend model as it looks to sell short-term overbought levels and buy short-term oversold levels as you can see in the figure above. It's different from traditional trend models as they take long and short positions during long-term overbought and oversold levels, respectively. According to the fund house's website, "this trading behavior allows counter-trend model to thrive in volatile markets, regardless of direction, and to react quickly to market turning points."
Clifford Stanton, the chief investment officer of AMFQX, states, "Counter-trend strategies, are founded on the theory that markets are inefficient in the short run due to disparate views on security prices and market direction, which creates noise."  The fund's investment model includes indicators that utilize short-term trends, as well as price and volume inputs among others to construct proprietary quantitative algorithms. In turn, those algorithms generate buy or sell signals for the fund's advisors.
The next article of the series compares the performance of the AMFQX fund with its peers.