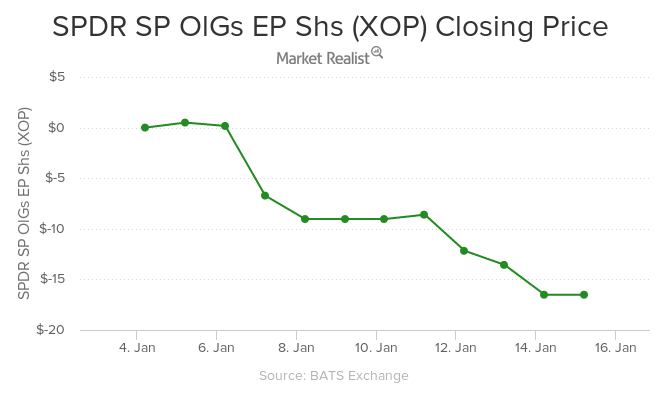 Leadership in Tehran Keen on the Withdrawal of Sanctions
By Rabindra Samanta

Jan. 15 2016, Updated 9:02 a.m. ET
Leadership in Tehran
The new political regime that came into power in Iran in 2013 was mostly elected on economic promises. Soon after that, the two heads state from the United States and Iran talked on the phone lines. This indicated the beginning of the new regime's attempt to normalize the relationship between the two countries. Moreover, if the current political regime fails to deliver on its economic promises, then that can be a dangerous signal for it in the next elections.
[marketrealist-chart id=969896]
Article continues below advertisement
Iran can't afford to keep high reserves of crude oil and sell when the price edges to new lows. The country may plan to supply natural gas from the Persian Gulf to European and Asian markets. Recently, the Iranian oil minister announced on January 3, 2016, that the country was planning to raise its production by one million barrels per day in two phases. A few months ago, Tehran hosted a conference where it purposed a new set of contract rules for foreign investors for developing oil and natural gas fields in Iran.
A lucrative offer for Eurasian companies?
European companies like Royal Dutch Shell (RDS.A) and Total (TOT) are gearing up for the contract. The investments could also attract companies from Pakistan and India (INDY). Russian (RSX) companies like Lukoil (LUKOY) are also looking to invest in the contract. The graph above shows the month-to-date performance of the US-based upstream benchmark XOP to date.