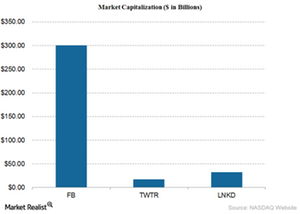 Lack of Specialization Caused Twitter to Fall behind Rivals
By Parker Thomas

Jan. 7 2016, Updated 2:01 p.m. ET
Lack of specialization
Facebook (FB), is just two years older than Twitter (TWTR) but has a user base of 1.5 billion compared to Twitter's 304 million. Twitter has faced a number of issues that have slowed its MAU (monthly active user) growth. Twitter's active users haven't seen much growth in the United States where the number of active users remains flat at 66 million. Most of the growth in active users comes from other markets.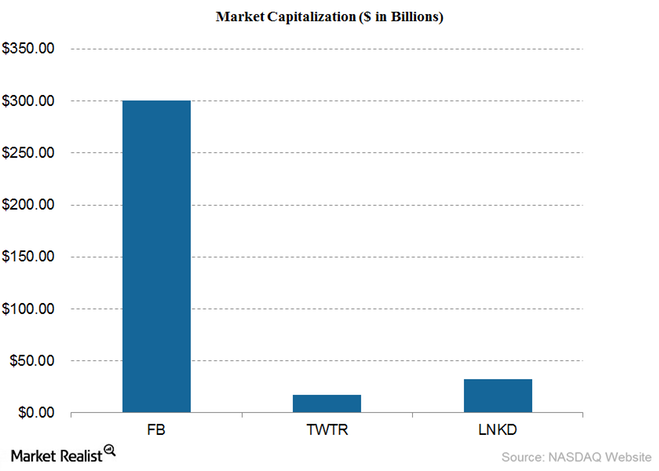 Article continues below advertisement
One of the hurdles that Twitter is facing is "lack of specialization," as it prevents the company from targeting specific users. For instance, LinkedIn (LNKD) is targeted to professionals, where it ties up common users with a group of professionals and industries. Likewise, Instagram is recognised for sharing photos and videos for adventure enthusiasts, whereas Facebook (FB) and Google Plus (GOOG) connect friends and create a community of people who share common interests. The chart above depicts the market cap, where FB is leading the other two in social media.
Is Twitter multi-faceted?
Moreover, Twitter doesn't provide features like adding friends, playing games, and instant messaging that could attract more users and keep them more engaged. Unlike Facebook, Twitter allows individuals to follow online users with the same interests and express approval of content by "Retweeting" or marking things as favorites by clicking on a heart.
It's more likely that individuals who know each other will stay connected using an IM (instant messaging) service or passing comments that can be visible to all their friends, like what Facebook provides. As a result, this causes users to spend more time interacting with each other, and the company can leverage and monetize that through affiliated marketing.
However, Twitter didn't achieve that particular aspect of social media. Instead, it portrays itself as multi-faceted and catering to every single online user. As per the report from Business Insider, more than a billion users have visited Twitter but have chosen to exit without signing in.
The PowerShares NASDAQ Internet Portfolio (PNQI) is a portfolio of 94 stocks whose top four stocks are Amazon (AMZN), Alphabet (GOOG), Facebook (FB), and Netflix (NFLX). They constitute 9.1%, 8.7%, 8.3%, and 7.5%, respectively, of PNQI.