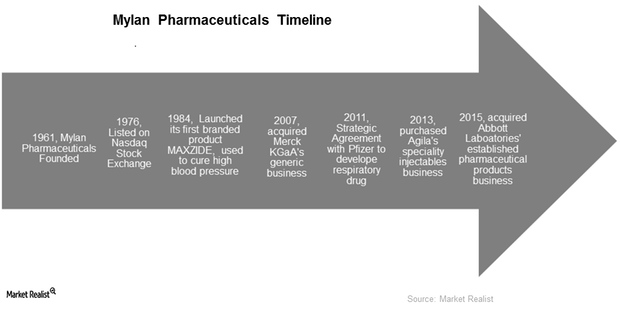 Introducing Mylan, a Big International Gun in Generic Pharmaceuticals
By Seth Richards

Jan. 5 2016, Published 2:50 p.m. ET
A brief company overview of Mylan
Headquartered in Hertfordshire, United Kingdom, Mylan NV (MYL) is one of the most prominent players in the generic pharmaceutical industry. Mylan is involved in developing, manufacturing, and distributing branded and generic pharmaceutical products all over the world. The company deals in generic products, prescription drugs, active pharmaceutical ingredients, and over-the-counter products. Mylan also deals with a range of dosage forms such as topical, liquids, semi-solids and oral solids.
Article continues below advertisement
Mylan's history
Mylan was founded by Milan Puskar and Don Panoj in 1961 as a distributing agency entitled Milan Pharmaceuticals. In 1976 and 1986, the company began trading on the NASDAQ and the New York Stock Exchange, respectively. In 1984, Mylan launched its first branded product, Maxzide, which is used to cure high blood pressure.
In 2013, the company purchased Agila's specialty injectable business. To further strengthen its business, Mylan acquired Abbott Laboratories in 2015.
The role of inorganic growth for Mylan
To balance the challenges posed by peer companies including Takeda Pharmaceuticals International (TKPYY), Valeant Pharmaceutical International (VRX), and Zoetis (ZTS), Mylan has diversified its business by acquiring Bertek, a leading company in transdermal business. Mylan further expanded its market by acquiring UDL, the largest pharmaceutical unit-dose packaging company in the US. Mylan also acquired Matrix Laboratories, a leading supplier of active pharmaceutical ingredients and the generic business of Merck KGaA.
You can get diversified exposure to Mylan's stock by investing in the iShares NASDAQ Biotechnology ETF (IBB), which has about 3.9% of its total holdings in Mylan.