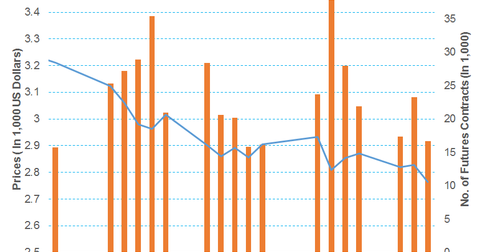 Higher Supply Projection for 2016–2017 Pulls Cocoa Prices Down
By Sean Brown

Updated
Cocoa prices fall
Cocoa futures contracts on the Intercontinental Exchange (or ICE) for March delivery fell by 2.3% and settled at $2,764 per metric ton on January 27, 2016.
Cocoa futures prices fell due to higher production projections for the long term from Rabobank. The iPath Pure Beta Cocoa ETN (CHOC) fell by 2.9% on January 27, 2016.
According to Rabobank International's report, the cocoa balance sheet for the 2015–2016 marketing year has shown a deficit of about 147,000 tons, but the projection for 2016–2017 is at a surplus of 114,000 tons.
Article continues below advertisement
Citing the production cuts by top cocoa producers Ivory Coast and Ghana to 1.7 million metric tons and 0.8 million metric tons, respectively, Rabobank highlighted that short-term cocoa prices could rise, but long-term projections suggest further falls. Speculations of higher production in 2016 pushed prices down.
In Cameroon, the average cocoa prices at farm gates are estimated to fall about 1.2% for the week ending January 26, 2016. Cameroon's National Association of Cocoa and Coffee Producers reported on January 26 that cocoa prices were 1,486 CFA francs per kilogram for the week of January 20–26, 2016. The speculation of favorable output consensus dragged prices down, putting cocoa under pressure.
The weather conditions in the top cocoa-producing regions of Africa are anticipated to be hot and dry. Warm and dry climatic conditions during this part of the year are the average. Temperatures are also near the average and are anticipated to remain so for the week ending January 31, 2016.
Speculators and traders have identified these conditions as unfavorable for output in the near term. The weather conditions in Asian cocoa-producing regions have been different than usual, with light showers. Production prospects are uneven due to these conditions. Speculation of unequal outputs dragged cocoa prices down on January 27, 2016.
Affected businesses
The fall in cocoa prices supports food and beverage companies, as cocoa is an important input material. Dean Foods (DF) rose by 2.8% on January 27, 2016. In contrast, Mondelēz International (MDLZ), Starbucks (SBUX), and The Hershey Company (HSY) fell by 0.56%, 1.7%, and 0.76%, respectively, on January 27.
The iShares MSCI Brazil ETF (EWZ) rose by 1.3% on January 27, 2016.