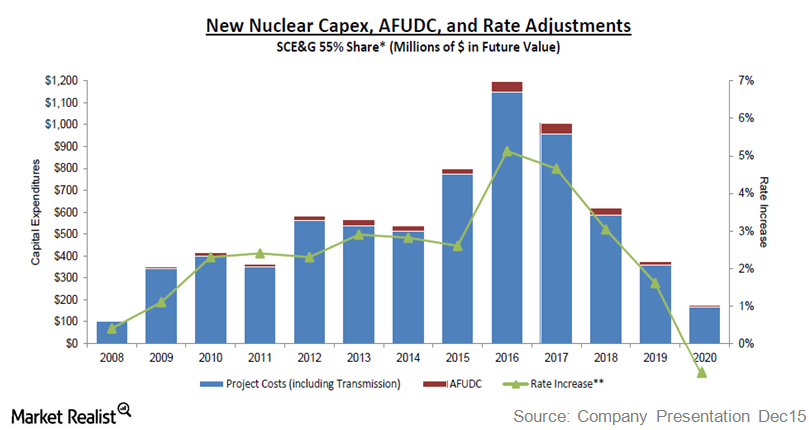 Heavy Capital Spending for SCANA's Nuclear Project
By Vineet Kulkarni

Jan. 13 2016, Updated 3:05 p.m. ET
Nuclear power plant
The recent capital expenditure plan of SCANA Corporation (SCG) revolves around its ambitious nuclear project. The total project cost of this nuclear reactor plant in Summer Station is expected to rise from $5.4 billion to $7.1 billion during the construction. SCANA's management is expected to spend $4.5 billion on this power plant in the next three years. The expenses for the constructing the power plant have continually been adjusted upward since the beginning in 2008. Therefore, these cost overruns can be an additional concern for investors as the project likely won't be operational until 2019.
Article continues below advertisement
Capital expenditure
SCANA's principal subsidiary SCE&G (South Carolina Electric and Gas) holds a 55% ownership interest in the nuclear power plant. It has recently agreed to have an additional 5% share in the project. According to the planned capital expenditure, the company will spend $0.3 billion on generation and $0.5 billion on transmission and distribution in the next three years.
Being the primary subsidiary of SCANA, SCE&G accounts for more than 60% of SCANA's capital allocation in the next three years. SCANA's gas business subsidiary PSNC (or Public Service Company of North Carolina) accounts for 35% of allocated capital for the same period.
After completing the nuclear project, SCANA's dependence on coal for power generation is expected to reduce substantially. This is a welcome move from the company as regulators imposed the Clean Power Plan where utilities (VPU)(XLU) have to switch from coal (KOL) to low-emitting energy sources. In the next five years, the contribution of nuclear energy in SCANA's fuel mix is projected to rise by 12%. Currently, competitors like Exelon (EXC) and Dominion Resources (D) use heavy nuclear energy in their generation portfolios.