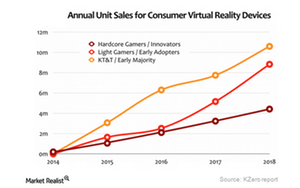 Google to Join Lenovo in Project Tango for Indoor Navigation Tool
By Parker Thomas

Jan. 14 2016, Updated 3:58 p.m. ET
Exploring the indoor space
Google (GOOG) has mapped nearly the entire outdoor world with Google Maps, its navigation tool. Now it's set to explore and map indoor space with its new Project Tango. Google has announced its plan to join Lenovo (LNVGY) to incorporate a 3D navigation tool into smartphones. Tango uses sensors to identify and replicate the physical space around it with animations in a 3D space, giving end-users a real-time experience and an indoor navigation tool.
Article continues below advertisement
Smartphone sensors will monitor everything around it and turn it into animations on the smartphone screen that change in real time. In general, it creates an augmented reality of the surroundings and allows users to navigate within that space. The technology can be used to navigate people through a shopping mall or search for a specific item in a store.
Google can monetize Tango
Project Tango is the advanced form of Microsoft's (MSFT) augmented reality HoloLens, which inserts animated objects into a 3D space. Tango will measure the distance of the room or the size of the objects such as furniture or merchandise. According to tech advisor Digi-Capital, augmented reality is expected to become a $120 billion market by 2020. The above graph shows that annual sales for VR (virtual reality) products continue to increase.
End-users can use Tango to navigate and also determine whether something such as furniture will fit into a specific space. Users can save the information for future reference. Google, on the other hand, will be able to use Tango to better identify users and target them based on their needs. It will be able to provide more relevant ads to turn users into potential buyers.
Facebook (FB) and Alphabet (GOOG) are part of the iShares US Technology ETF (IYW). They account for 6.4% and 5.9% of the ETF, respectively.