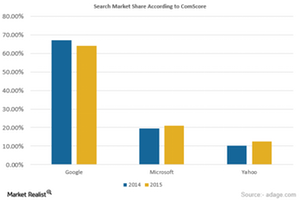 Google Entices Users from Social Media and Messaging Service
By Parker Thomas

Jan. 22 2016, Updated 1:05 a.m. ET
Google Plus user base remained low
Over the past few years, Google (GOOG) has been dominating the Internet sector with its powerful search engine. However, it has failed to monetize its other suite of products due to an increase in cutthroat competition. Facebook (FB) evolved as one of the biggest rivals for Google with 1 billion daily active users. It's recognized as the second-most-popular website after Google.
Despite having an enormous user base, Google has failed to attract users to Google Plus, its social media network. According to estimates by Stone Temple Consulting, Google has around 2.5 billion users, of which only 10% (250 million) shared posts on Google Plus. Only 6 million users were found to be active or interacting with other users on the site. Instead of imitating Facebook, Google Plus is using features from other social media networks such as Pinterest and Reddit. But after several attempts, Google Plus has failed to increase its user base.
Article continues below advertisement
Google falls behind Facebook
The reason Google Plus falls behind other social media networks is its failure to add new features that provide users with all-in-one solutions that increase user engagement. Unlike Google, Facebook continues to add features such as hashtags, a replicate from Twitter (TWTR). It also added a "buy" button for e-commerce transaction and an "autoplay" for videos. In December 2015, Facebook introduced "Facebook at Work," which creates a work account and provides tools to share views or interact with co-workers within the same company.
In its attempt to attract more users, Google launched several mobile messaging apps (applications) such as Google Talk, Google Voice, Google Hangouts, and Google Messenger. Google also incorporated services such as SMS (Short Message Service) and MMS (Multimedia Messaging Service) for offline users. But they failed to penetrate the mobile messaging market. Facebook Messenger did succeed in its attempt to make an all-in-one platform. Facebook has integrated its Messenger app with Uber so users can request a car, track a driver, and pay for a ride within Facebook Messenger, without installing the Uber app.
The First Trust Dow Jones Internet ETF (FDN) is a portfolio of 41 stocks. Its top four stocks are Amazon (AMZN), Facebook (FB), Netflix (NFLX), and Alphabet (GOOG), which make up 11.5%, 10.4%, 5.6%, and 5.5% of the fund, respectively.