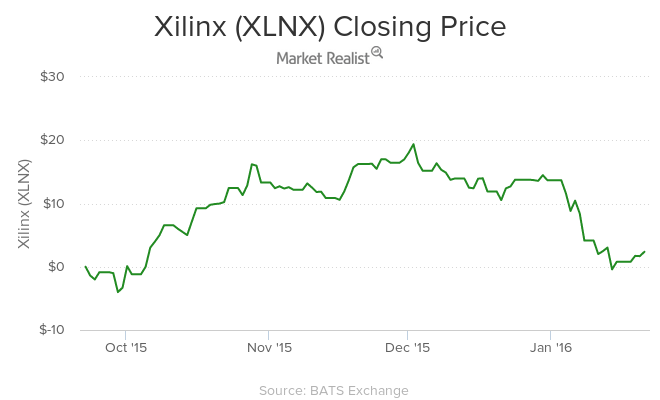 A Good December 2015 Quarter for Xilinx Stock
By Puja Tayal

Jan. 28 2016, Updated 7:06 a.m. ET
Xilinx stock at a glance
So far, we have seen that Xilinx (XLNX) posted declining revenues and profits in fiscal 3Q16. The company expects the earnings to remain low in fiscal 4Q16 as well, due to soft demand from key markets. This is an industry-wide scenario in which the semiconductor industry is maturing.
Although the company is going with the industry flow, another noticeable trend is the massive consolidation in the industry. The company's announcement of the change-of-control provision sparked rumors of a possible acquisition.
Let us see how these events affected the company's stock over fiscal 3Q15. XLNX has a market capitalization of $11.07 billion and a PE (price-to-earnings) ratio of 20.13. The PE ratio is below the industry average of 23.10.
[marketrealist-chart id=990413]
Article continues below advertisement
Stock rallies on acquisition rumor
The announcement of the change-of-control provision on January 20, 2016, saw XLNX stock grow 9% to close at $46.78 on January 21, 2016. This is at the higher end of the stock's 52-week range of $37.20–$50.72. Prior to the news, the stock was downtrending in January 2016.
The Xilinx news had a positive impact on related semiconductor stock prices on January 21, 2016. Its rival Lattice Semiconductor (LSCC) rose 10.8% to $4.94. Cypress Semiconductor's (CY) shares rose 7.6% on January 21, 2016, as it reaffirmed its December 2015 quarter's guidance at a time when other companies are reporting weaker results. Cypress has a similar customer segment as Xilinx.
From October–December 2015, Xilinx has grown from slightly above $41 to $46. On December 28, 2015, Intel (INTC) completed the acquisition of Xilinx's rival Altera.
Analyst rating
Analysts have rated Xilinx stock as a "hold" and set an average 12-month price target of $47.91. Of the 24 analysts monitoring Xilinx, two rated it "sell," 13 rated it "hold," seven rated it "buy," and two rated it "strong buy." Analysts expect the company to report EPS (earnings per share) of $2.03 for fiscal 2016.
ETF coverage
Of the company's market capitalization, 5.41% is held by 72 ETFs. The SPDR S&P 500 ETF (SPY) has exposure to large cap stocks across various sectors, including technology. It has 0.84% exposure in INTC and 0.07% in XLNX.