Germany Inflation Rate Dipped in December
By Lara Sheldon

Jan. 6 2016, Updated 8:58 a.m. ET
Germany's December inflation rate is expected to be 0.3%
According to Germany's Federal Statistical Office (Destatis), Germany's December inflation rate is expected to come in at 0.3% on a YoY (year-over-year) basis as compared to 0.4% in November 2015. On a monthly basis, it is expected to have fallen 0.1% in December 2015. Given that Germany is one of the dominant economies of Europe, its inflation rate falling close to zero is not a good sign for the overall growth of the Eurozone.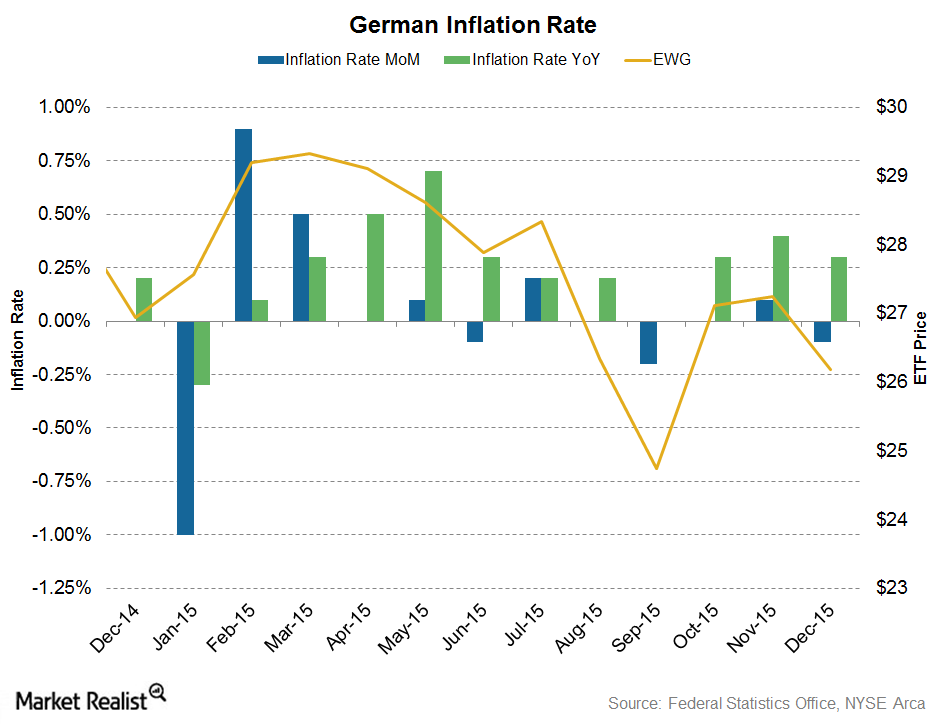 Article continues below advertisement
As a result, the iShares MSCI Germany ETF (EWG) and the iShares MSCI Eurozone ETF (EZU) fell 0.94% and 0.87%, respectively, in yesterday's trade. Among German ADRs (American depositary receipts), Daimler AG (DDAIF), Volkswagen (VLKAY), SAP (SAP), and Deutsche Bank (DB) fell 1.0%, 5.9%, 0.22%, and 0.04%, respectively, on the day.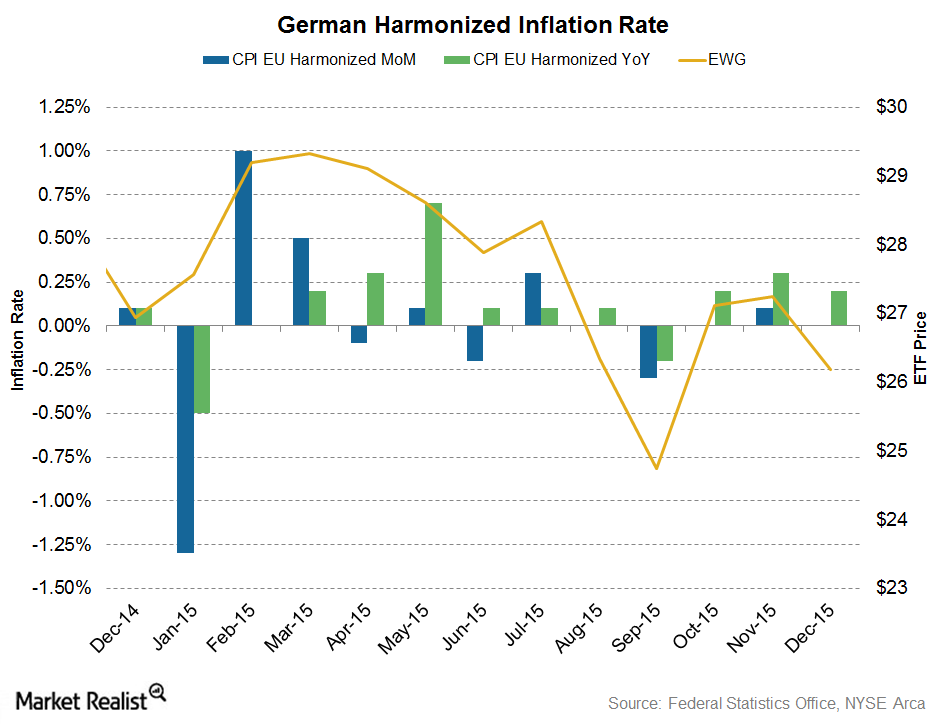 Germany's December HICP is expected to have risen 0.2%
Germany's harmonized index of consumer prices, or HICP, which facilitates a better comparison between Eurozone nations, is expected to have risen 0.2% in December 2015 on a YoY basis. On a monthly basis, it is expected to have remained unchanged.
The slower increase in food prices as compared to the increase in November kept inflationary pressure low in December 2015. Food prices rose 1.4% in December as compared to 2.5% in November 2015.
Also, falling crude oil prices are offsetting the inflationary pressure in the economy and are negatively impacting growth prospects. Energy prices declined at a slower rate in December, falling 6.5% as compared to the 7.5% drop in November.
Lower inflation is likely to adversely impact everyone in the economy. Long-term low inflation is as destructive as high inflation. Tumbling price levels slash corporate profits, which in turn lead to layoffs and an increase in unemployment. Germany's unemployment rate came in at 4.5%, per the last report in November 2015.
Germany's inflation rate staying low is highly disappointing against the backdrop of the quantitative easing measures undertaken by the European Central Bank, or ECB, to spur economic growth. With the extended stimulus, it will be interesting to see how soon Germany comes out of the low inflation trajectory.
In further Eurozone news, Italy has also released inflation data. We'll take a look at these figures in the next article.