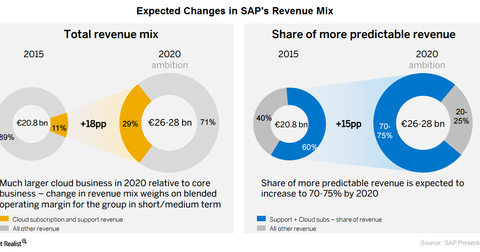 Future Guidance: SAP Expects to Be a Cloud Company by 2018
By Anne Shields

Nov. 20 2020, Updated 4:12 p.m. ET
SAP's cloud offerings to overtake software licenses revenue
Earlier, we discussed SAP's (SAP) fiscal 4Q15 and 2015 results. Looking at its cloud offerings performance in fiscal 4Q15 and 2015, we can deduce that its cloud offerings are gaining traction. However, despite considerable growth in SAP's cloud offerings, it's the company's traditional software licenses and support that form the bulk of its revenue. However, if we go by SAP's recent revelation, this is going to change soon.
Article continues below advertisement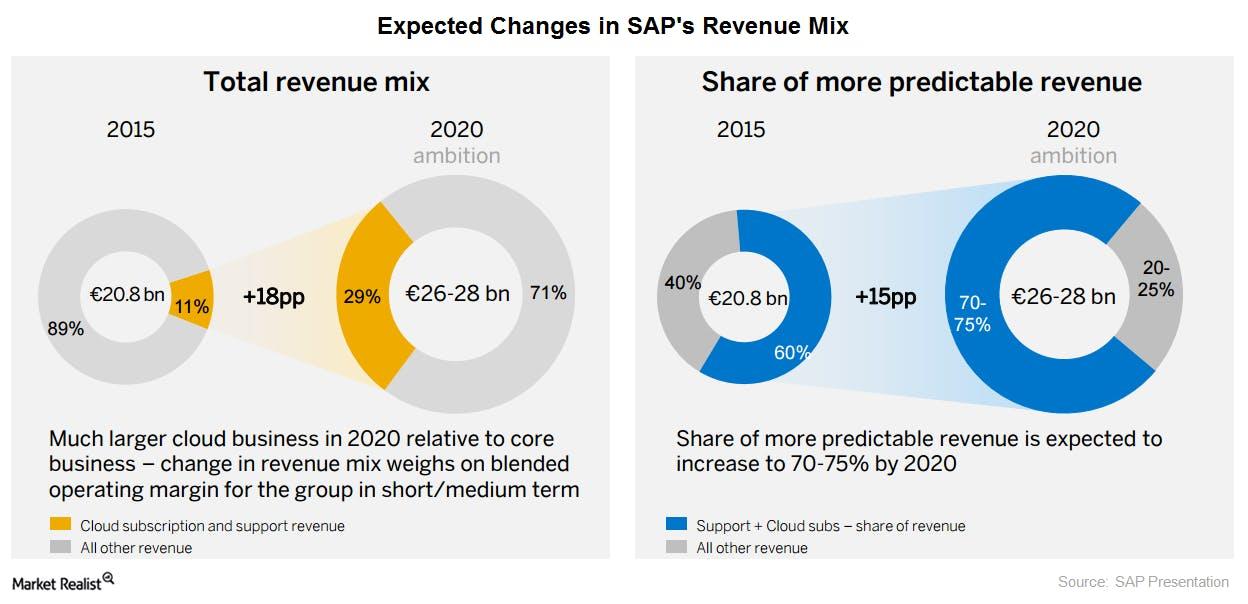 SAP stated, "By 2017 SAP continues to expect its rapidly growing cloud subscriptions and support revenue to be close to software license revenue and is expected to exceed software license revenue in 2018."
Article continues below advertisement
Moreover, in its fiscal 4Q15 earnings release, SAP raised its guidance for 2017, stating that it now expects revenue and adjusted operating profit, respectively, in the range of 23.0 billion–23.5 billion euros and 6.7 billion–7.0 billion euros. In fiscal 2014, SAP stated that it expects revenue and adjusted operating profit, respectively, in the range of 21 billion–22 billion euros and 6.3 billion–7.0 billion euros in 2017. SAP's improved guidance shows a 7% rise in 2017 revenues.
SAP's improved cloud offerings and future guidance
SAP's ongoing transition to the web-based subscription model from traditional licensed software is expected to lead to more predictable recurring revenue, and that's the basis of its improved 2017 guidance. The cloud is increasingly being preferred by legacy software companies like IBM (IBM), Oracle (ORCL) and Microsoft (MSFT). Apart from investing billions of dollars in the cloud, these companies have gone on an acquisition spree to hone and expand their expertise in the cloud space.
According to Goldman Sachs, the cloud computing infrastructure market will grow to approximately three times its current size by 2018. It also expects cloud computing costs to account for nearly 11% of total enterprise information technology spending by 2018, a rise from ~5% in 2014.
You could consider investing in the First Trust ISE Cloud Computing Index Fund (SKYY) to gain exposure to SAP, as the company makes up ~3.7% of SKYY. Investors who would like application software exposure could also consider SKYY as application software makes up ~50% of it.