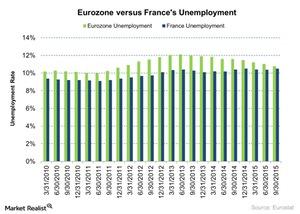 France Is Struggling with Persistent Unemployment
By Sarah Sands

Updated
France's uncertain economic climate
France (EWQ) is one of the leading economies of the European Union (FEZ) (EZU) now facing a serious problem of unemployment. France's unemployment is rising on a yearly basis. President Francois Hollande has set out a 2 billion euro job creation plan in an attempt to lift France from its "state of economic emergency."
The country is facing this problem because of a large amount of immigration happening in the nation. The higher number of migrants has been not only creating social disturbances but also affecting the nation's economic and political environments. This has led to an uncertain economic climate in France.
Article continues below advertisement
France's President's new strategy to handle unemployment
As the populations in all European nations are already aging, it's difficult for these nations to realize economic development. Immigration is the way by which the continent can develop some economic activity, but it also opens the door for political and social disturbances.
If a country is not able to produce enough workers domestically, it can import workers, fulfill the labor requirement, increase domestic demand, and expand operations to hire new workers. This is the logic of economic survival. France's president wants to implement a strategy through which France's citizens will benefit:
He has set out a plan for 2 billion euro job creation plans, with an additional 500,000 vocational training schemes to be created.
Companies that have less than 250 staff will get subsidies if they employ a young and unemployed person for six months or more.
Money for this plan would come from savings in other areas of public spending, and these 2 billion euros will be financed without any new taxes.
As France's unemployment rate is 10.5% against Germany's 6.3%, Hollande is taking the necessary action to come out from this problem.
We could expect a marginal growth in France's major companies such as Orange (ORAN), L'Oreal (LRLCY), and Sanofi (SNY) due to this employment plan.
In the next part of this series, we'll analyze how Germany (EWG) is reacting to this crisis.