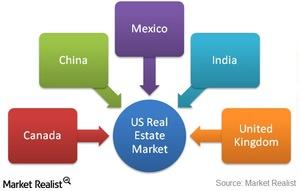 Corcoran: Foreign Housing Investments Don't Affect Most Americans
By Surbhi Jain

Dec. 4 2020, Updated 10:53 a.m. ET
Foreign investments are gaining ground in the US real estate market
Foreign investing is really taking hold of the US real estate market. Statistics show that around 209,000 homes sold to foreign buyers between April 2014 and March 2015 at an average price of $500,000. Top investors have included Canada (EWC), China (YINN), Mexico (EWW), India (INDA), and the United Kingdom (EWU).
Article continues below advertisement
Do foreign investments impact the US markets negatively or positively?
Barbara Corcoran believes foreign investments in the US real estate market don't affect the average American or the blue-collar worker. She also says they won't impact the real estate markets across the United States (VOO). However, since most of these investments are in luxury living, they would impact the US luxury buyer. The coastal markets and second home markets could be impacted too, according to Corcoran.
While Corcoran believes there's negative sentiment toward these foreign investors, Henry Cisneros seems quite positive about them. Cisneros believes that in areas like Los Angeles and San Francisco, foreign investment has affected the average American's real estate buying power to some extent—and led to a rise in overall home prices.
Positive long-term impact
However, on a broader scale, Cisneros continues to believe that the influence of foreign money into the US real estate market is a good sign. Why?
It shows that foreign investors regard the US real estate market as a safe haven, as they're willing to park their money here.
It fuels the construction and pace of the recovery. Cisneros has been talking about the need for more private capital in the market. Foreign markets help plug this deficit to some extent.
Cisneros sees these investors moving down from luxury investing to mainstream investing sooner or later, and that's when they would start contributing positively to the development of the US real estate market and its recovery. "Accept it or not, the US real estate market's still dry of adequate investment," Cisneros remarked.
Let's move on to see where these real estate magnates will put their money when it comes to investing in the US real estate sector.