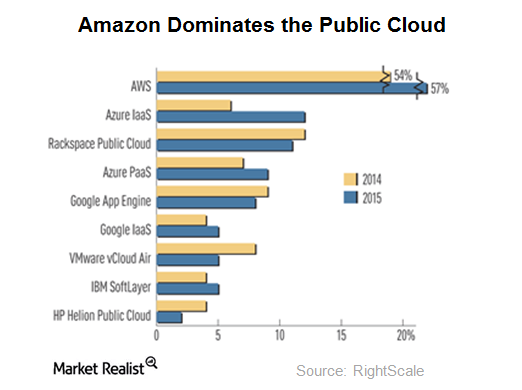 Following Amazon's Lead, Microsoft Slashes Prices of Azure
By Anne Shields

Jan. 26 2016, Updated 6:59 a.m. ET
Microsoft announces Azure price cut
In our recent IBM (IBM) series, we mentioned that Amazon (AMZN) has embarked on a price-cut strategy, revealing further price cuts to its Elastic Compute Cloud, or EC2, and the opening of a new cloud region in South Korea (EWY) in 2016. Following Amazon's lead, Microsoft (MSFT) has announced cuts in the prices of its Azure platform.
In regards to the Microsoft Azure price cuts, director of product marketing of Cloud Platform Nicole Herskowitz stated in a blog post that "we have had a longstanding commitment to make our prices comparable on commodity services like compute, storage, and bandwidth relative to Amazon Web Services. In keeping to this commitment, we are announcing price reductions up to 17% on the latest version of the popular Azure D-series virtual machines, Dv2 Virtual Machines. Dv2 Virtual Machines sport 35% faster CPUs than D 'v1' virtual machines and are based on the newest generation Intel Xeon (Haswell) processors."

Article continues below advertisement
Rackspace bears brunt of Amazon and Microsoft's price cuts
The recent price cuts by Amazon and Microsoft impacted Rackspace (RAX) stock, which plunged by as much as ~11%. As the above chart shows, Rackspace is behind Amazon and Microsoft in the public cloud space. Undoubtedly, any move by these leading players significantly impacts Rackspace and other players in this space. Rackspace stock has fallen by ~26% to date since the beginning of 2016.
Microsoft partners with Akamai Technologies to compete
In late 2015, Microsoft partnered with Akamai Technologies to add CDN (content delivery network) capabilities directly to its Azure cloud platform, as the latter leads the CDN space. According to Carl Brooks, an analyst with 451 Research, Microsoft and Akamai's partnership is "one way to attempt to face down AWS's CDN network, which is on a scale with Akamai's, despite being much younger."
Investors who wish to gain exposure to Microsoft could consider investing in the SPDR S&P 500 ETF (SPY). While SPY invests ~2.4% of its holdings in Microsoft, it also has an exposure of ~8% to application software.